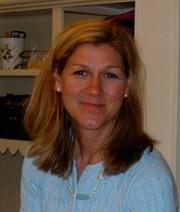 Share Your Memory of
Christin Gachowski
Obituary of Christin Gachowski Martin
Christin Gachowski Martin, 48, passed away on December 28, 2008, at University Hospital, Syracuse, NY, surrounded by her loving family. She battled leukemia courageously for nearly two years. Chris was the sixth daughter of Thaddeus and Constance Labuz Gachowski and was born at St. Elizabeth's Hospital, Utica, NY, on August 5, 1960. Chris grew up in Clinton, NY, and attended local Catholic schools, graduating from Notre Dame High School in 1978 where she ran cross country. She graduated from Hobart and William Smith Colleges in 1982 with a B.S. in Geology. Chris graduated from Syracuse University with an M.S. in Hydrogeology. She was a lifelong environmentalist and her masters thesis was on remediation of acid rain in Adirondack lakes. She worked at O'Brien & Gere in East Syracuse from 1987 to 1997, and at JTM Associates of Liverpool, NY, through 2006 as a consulting hydrogeologist. Chris was a long-time board member of the Central New York Association of Professional Geologists and was its first female president. Chris married Kevin Martin in 1986 and was a devoted wife and mother to their four children. The family moved to Clinton in 1997 and Chris became active on the St. James Pre-School board where she served as President, and the Clinton PTA where she served as secretary. Chris was well known for having an eye for good design. She made a quilt for a juried art show in Syracuse, and the prize-winning quilt was exhibited at the Everson Museum of Art. She cherished family and tradition, and refurbished her mother's wedding gown, re-working the lace with her sister Gail, so she could wear her mother's gown on her own wedding day. Chris took pride in her garden and the extensive restoration of her home, which was built in 1851 and had been split into three apartments. She enjoyed family events at the Sadaquada Golf Club and morning exercise class at the Kirkland Art Center. In 2006, Chris embarked on a new challenge and opened a boutique on the village green in Clinton called "Krizia Martin". Chris loved the interaction with customers and selecting distinctive items for her store. Chris' sisters, brother-in-law Tom Neumann, niece Cheryl Lynn Doyle and manager, Judy Wildenger, kept Chris' dream alive during her illness, and as a tribute to her Krizia Martin will remain open. Above all of her achievements, Chris' defining characteristics were kindness and love of friends and family. Chris and her family were deeply touched by the way that kindness and love were returned to her through the outpouring of support during her illness. Her family especially thanks Judy Kowalczyk, Nina Bremer, Mary Byer and Linda McHarris for organizing meals and much, much more. Chris is survived by her husband, Kevin, and their four children, Connor, 20, Christian, 17, Zoe, 11, Caroline, 8, her father Thaddeus Gachowski of Clinton, her five sisters, Constance of Clinton, Sylvia Bonnie Liebers of Schenectady, NY, Gail Welch of San Diego, CA, Cheryl Lynn Doyle of Potomac, MD, and Corrine Gachowski (Neumann), of Clinton. Her mother Constance predeceased her in 1973. Chris was very close to her six brothers in law, two sisters in law and their spouses, and especially her 17 nieces and nephews. Calling hours will be held at Owens-Pavlot Funeral Service, Inc., 35 College St., Clinton, from 3 pm to 7 pm on Thursday, January 1, 2009. Services will be held at 10 am on Friday at St. Mary's Church, Marvin St., Clinton, where a Mass of Christian Burial will be celebrated. Chris was concerned that many leukemia patients could not find matching stem cell donors. In lieu of flowers, gifts may be sent to Kernan and Kernan, PC, 258 Genesee St., Utica, NY 13502 made out to "Christin Gachowski Martin Foundation". Funds will be used to encourage people to register as stem cell donors and to defray the cost of testing.
A Memorial Tree was planted for Christin Gachowski
We are deeply sorry for your loss ~ the staff at Owens-Pavlot & Rogers Funeral Service, Inc.