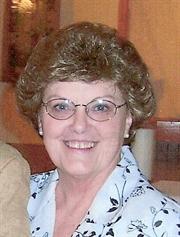 Obituary of Ann K. Buckley
Ann Buckley, 65, of Yorkville, passed away Friday, August 1, 2008 at the Abraham House after a long, courageous battle with cancer.
She was born April 28, 1943, to Howard and Josephine Neenan Dawes in Clinton, where she was raised and educated. On September 10, 1971, at Blessed Sacrament Church, she married Richard Buckley. They were married for 36 years and always resided in Yorkville. Ann worked for Rome Lab at Griffis Air Force Base for 45 years until her retirement in 2007. She was a member of Sacred Heart-St. Marys in New York Mills. Ann enjoyed tending to her gardens, but most of all she enjoyed spending time with her grandbabies.
Ann is survived by her loving and devoted husband, Richard; her loving and caring daughter Jennifer and her beloved granddaughters, Alexis and Kylie of Utica. She is also survived by three brothers and sisters-in-law, David and Ruthann (Morton) Dawes of Waterville, Donald and Barbara Dawes of Utica and Peter and Mona Dawes of Holland Patent; a sister-in-law Veronica Taylor of Utica; brother-in-law and sister-in-law, Donald and Foula Taylor of Daytona Beach, FL; several special nieces and nephews and many wonderful and caring friends. She was predeceased by her parents Howard and Josephine Dawes.
Funeral services will be held 9am Tuesday, August 5, 2008 at Owens-Pavlot Funeral Service, Inc., 35 College St., Clinton and 10am at Sacred Heart-St. Marys Church, New York Mills where a Mass of Christian Burial will be celebrated. Burial will be in St. Marys Cemetery. Friends are invited to call Monday from 6-8pm at the funeral home.
Please consider donations to Abraham House, 1203 Kemble St., Utica, NY 13501 or American Cancer Society, Memorial Processing Center, PO Box 7, E. Syracuse, NY 13057-0007.
A very special thank you to all of Anns extended family at the Abraham House for the wonderful compassion and loving care they provided to her. They are an exceptional group of people whose love and care will always be remembered.
To send flowers to the family of Ann Buckley, please visit Tribute Store