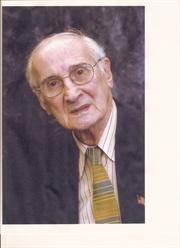 Share Your Memory of
Virgil
Obituary of Virgil C Crisafulli
Virgil C. Crisafulli, Ph.D., 95, educator, author, and founding member of the Utica College faculty, passed away peacefully on March 27, 2008 at the Lutheran Home in Clinton. Dr. Crisafulli was born on April 22, 1912 in Clarksburg, West Virginia to Mario Crisafulli and Maria Bongiorno, and spent his childhood in Sicily and Wadsworth, Ohio. He graduated from Wadsworth High School in 1932, and in 1938 married the woman he called his wife and his life, Martha Eva Bair. Dr. Crisafulli earned his bachelors, masters, and doctoral degrees from The Ohio State University. He served as an economist with the Office of Price Administration and War Labor Board in Ohio before serving as a lieutenant with the U.S. Navy during World War II. He was stationed in the southwest Pacific on the USS Ommaney Bay, which was sunk during the largest Naval battle in history, the Battle of Leyte Gulf. In total, Dr. Crisafulli was involved in five major combat operations. Following his honorable discharge in 1946, he chose to leave a higher paying job for his true lifes calling, higher education. Dr. Crisafulli became a member of the original faculty of Utica College, joining the institution as assistant professor and chair of economics. He and Martha moved to Utica, where he admirably confronted the challenge of teaching students most of whom were returning veterans, like himself in crowded classrooms on the third floor of Plymouth Church, at the heart of Utica Colleges original Oneida Square campus. In his 33 years of service to the College, Dr. Crisafulli not only taught a full schedule of courses, but was also active in public affairs. He was involved with the arbitration of labor disputes and was a consultant to industry and government. In 1950, he was called to Washington by the Wage Stabilization Board to help stabilize wages during the Korean War. From 1960 to 1970, Dr. Crisafulli was actively involved in politics, running for Congress in 1962 and serving as the Oneida County coordinator for Robert F. Kennedys successful 1964 senatorial campaign. He was a delegate to the New York State Constitutional Convention in 1967. Dr. Crisafulli wrote several books and numerous articles in the field of labor and urban economics. His books include A Directory of Business and Industry in the Upper Mohawk Valley and An Economic Analysis of the Utica-Rome Area. In 2000, he authored Reflections: The Early Years of Utica College. Apart from his impressive scholarly activity, Dr. Cris, as he was affectionately known to his students and colleagues, was tirelessly dedicated to teaching and deeply devoted to his students. In 1978, he was named the inaugural recipient of Utica Colleges distinguished teaching award, which was later named in his honor. Upon his retirement in 1978, he was awarded the title of professor emeritus of economics in recognition of his exemplary teaching, scholarship, and service. His service continued into retirement, as he and Martha founded several scholarships and raised thousands of dollars for the College. In 1996, he received a Utica College honorary degree of doctor of humane letters, and in 2007, he was inducted into the local Education Hall of Distinction and honored as a Living Legend by the Oneida County Historical Society. Dr. Crisafulli was predeceased by his wife in 1991, his brother, Sandy, and his sister, Josephine Muscolino. He is survived by his nephew, Donald, and Donalds wife, Sharon, Spotsylvania, Virginia, and their family. Dr. Crisafulli also leaves thousands of students who remember him with great fondness; his Utica College colleagues, who were like family to him; his Friday night poker club buddies; and two special friends, Carol Mackintosh and Kevin Kelly, who succeeded in ensuring that, in his final years, Dr. Crisafulli lived in dignity and was surrounded by love. Carol and Kevin wish to thank the staff of The Villas and Clara Bridge Clinton (formerly Alterra) for the kindness theyve shown Cris over the past several years. At Dr. Crisafullis request, the funeral services will be private and will be held at the convenience of the family. There are no public calling hours. Utica College will host a memorial service on April 22; details will be announced in this section of the newspaper the week before the service. An online memorial Web site has been established at www.utica.edu/cris. Donations in Criss memory may be made to Utica College, the Utica Public Library, or the Kirkland Town Library.
A Memorial Tree was planted for Virgil
We are deeply sorry for your loss ~ the staff at Owens-Pavlot & Rogers Funeral Service, Inc.