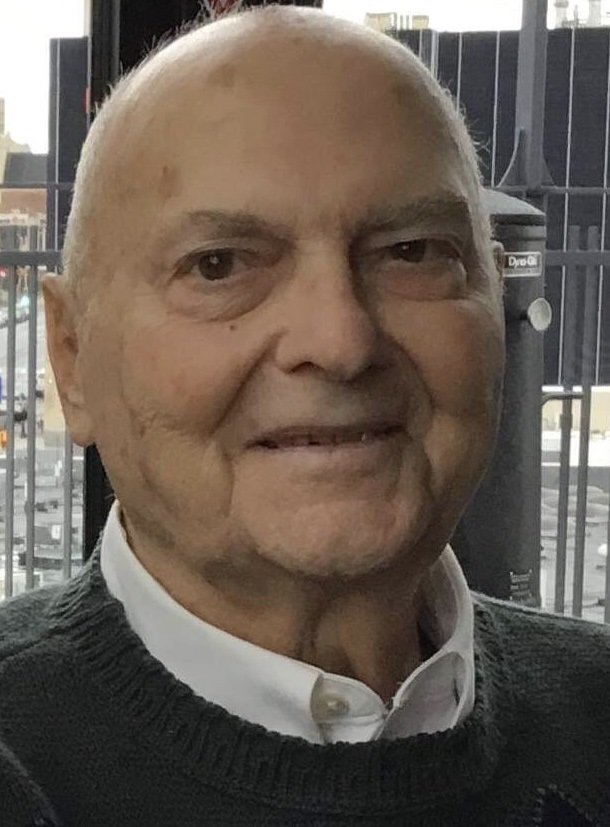 Share Your Memory of
John
Obituary of John A Paparella
John A. Paparella, 86, passed away after a long illness on Tuesday, March 19, 2019 in the comfort of his own home surrounded by his loving family.
John was born in Utica, the son of the late Anthony & Mary (Alberico) Paparella. He was raised in East Utica, a predominately Italian neighborhood. He attended T.R. Proctor High School and was a graduate of the class of 1950. He was voted the Most Outstanding Athlete of his class and lettered in football, baseball, basketball, and track. He continued his education and athletics at St. Lawrence University from 1951-1953 where he lettered in football as part of the varsity program. John transferred from St. Lawrence back to Utica College of Syracuse University where he lettered in basketball and baseball for the varsity programs. He joined the US Army in 1955 and served his country for 6 years (2 years active duty and 4 years in the National Guard) as a Radar Specialist in support of the Washington D.C./Baltimore Defense Ring-Nike Missle Operation. He was Honorably Discharged in 1961 at the rank of Staff Sargent. In 1958 he married the love of his life, Janet Ellen Owens, and they started a family of their own. He returned to Utica College of Syracuse University in 1957 to receive his bachelor's degree while starting his career at General Electric. John went on to work at GE for 38 years as a Purchasing Manager in the Light Military Defense Electronics Sector where he earned high level security clearance working for Department of Defense programs. He was a proud member of the GE Quarter Century Club and the GE Elfun Society.
Although John had much success with his athletics, education, military service, and career at GE, there was nothing that he was more proud of or enjoyed more than his family. He was the father of four daughters whom he watched grow into beautiful, intelligent, athletic, successful mothers and women. He enjoyed vacationing with his family to the Adirondacks and the Southwest (Arizona). Some of his fondest memories were in Lake Placid at the Olympic Center watching ECAC Championship Hockey tournaments with Jake. Holidays at home with his family were his favorite times of the year, especially Christmas Eve. He was a huge fan of Syracuse Athletics and the Buffalo Bills. Most of the time he had more important games to attend, the games and sporting events of his grandchildren. He was truly their biggest fan. He watched his grandson and best friend, Jacob, mature into an excellent athlete. From Pop Warner, to high school football, to a solid fast pitch softball player, and pitching coach at the collegiate level. He observed his granddaughters grow and excel at performing in their sports of softball, soccer, basketball, swimming, running and ice skating. He could not be more proud of what they all accomplished as intelligent, wonderful, and beautiful human beings at such young ages.
John is survived by his wife, Janet (Owens) Paparella; daughters, Judy Hammill and Kevin Wisniewicz, MaryLou and Steve Bolan, Donna and Michael Taman, Patricia and John Dusett; brothers and their wives, Emil and M. Janet Paparella, Edward and Barbara Paparella, Francis and Annette Paparella; brother-in-laws David and Phillip Owens; sister-in-law, Barbara McBride; aunt, Rose Basciotta (100 yrs young)
Grandchildren Jacob Haney and Courtney Rapp, Alessandra Hammill, Nicole and Kevin Quesnell, Katlyn Gregg and Iric Bressler, Samantha Clapper, Caroline Dusett; and last but not least, his great grand daughter, Shea Quesnell. John was predeceased by his mother and father-in-law, Frank and Lucille Owens, and his brother-in-law Allen Owens.
The family would like to extend a sincere thank you to Dr. Ashok Patel for the care that he gave to John.
Memorial contributions in his name can be made to St. Jude's Children's Hospital.
There will be no public services for John. His Inurnment will take place in Mt. Olivet Cemetery Whitesboro, NY at the convenience of his family. Arrangements by Owens-Pavlot & Rogers Funeral Service, Inc. Clinton, NY.