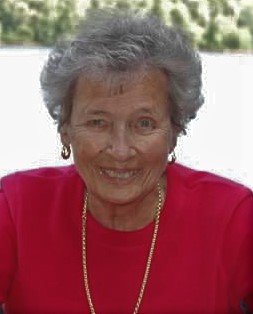 Obituary of Mary Frances Evans
Mary Frances Evans passed away on Friday, March 15, 2019, at the Masonic Home, after a wonderful life of 94 years. She was born on August 10, 1924, in New York City, NY, the daughter of Josephine Carver and George Henry Taylor. She was raised and educated in Ellenville, NY, then attended Roosevelt Hospital Nursing School in NYC, graduating in 1945. It was there that she met and married Dr. James C. Allanson. They eventually moved to Ithaca, NY and finally to Clinton, while raising their five children. Dr. Allanson, who was a urologist at Slocum Dickson, passed away in 1973. By then, Frannie had returned to nursing at St. Luke's Hospital. She later worked as a real estate agent and insurance broker at the Burns Agency in Clinton. In 1976, she married Arthur W. Evans, joining together two longtime Clinton families. Mr. Evans, who was a law partner at Evans, Severn, Bankert, and Peet, passed away in 2000.
Frannie was a consummate hostess, an excellent cook, and welcomed many into her home with open arms. She took pride in educating her family to the importance of an artful table setting!
Frannie enjoyed a variety of activities. She spent many an afternoon hosting or attending Whist Club. In her younger years, she was a regular golfer and then became an avid tennis player playing into her 70's in leagues at Brookside and PAR. She was an avid reader, maintaining a revolving stack of good reads at all times. Frannie was also an enthusiastic gardener and, with her daughter Elizabeth's help, regularly cultivated several beautiful flower and vegetable gardens at Bristol Road.
Frannie's passions were her family, North Lake and her dogs. Her many children, grandchildren and great-grandchildren brought her immense joy. Memories of last day of school picnics, breakfasts by invitation at camp, and countless family celebrations will be fondly remembered. Frannie adopted and/or rescued over ten dogs in her lifetime, with such notables being Pucky, Packy, Pumpkin, Emily, and Duchess.
She is survived by her children: Jo Weiss (Sam), daughter-in-law Kit Miller (Steve), Mary Allanson (Shelly Cardillo), Eric Allanson, Connie Evans, Arthur Evans (Julie), and Elizabeth Rossi (Vincent); grandchildren: Jamie Allanson, Marika Krull (Eric), Naomi Roof (Josh), Tomi Pogact (Mark), Otto Allanson, Kili Weiss, Willie Weiss (Shelly), Mac Weiss (Shaela), Dewey Weiss (Erika), Cody Weiss, Lara Enders (Adam), Ben Allanson (Janelle), Nathaniel Evans, Rachael Zalewski (Richard), Evan Rossi, William Rossi, Arthur and Henry Evans, and their mother, Mary M. Evans; great-grandchildren: Christian Allanson, Ada, Piper, and Dylan Krull, Harper and Juniper Roof, Grayson and Cooper Pogact, Kennedy and Liam Drayton, Olivia, Walker, and Jackson Weiss, Andrea Brandi, Zander and Lola Jo Weiss, Cassie, Anna, and Lillian Weiss, William and Henry Zalewski. She is also survived by her sister, Harriet Hoskinson, and many nieces and nephews. She was predeceased by her sons, Jim and Rob Allanson and daughter, Megan Wahl (Roger), as well as her sisters, Patricia Rowan and Jean Safford.
The family thanks the Masonic Home, St. Luke's Home, the Presbyterian Home, and Brookdale for their care during her final years. Very special thanks and gratitude go to her longtime friend and caregiver, Sharon Lewis. She also cherished her close friendship with Suada Covic.
In keeping with Frannie's wishes, there will be no calling hours. The family encourages all friends, family, and well-wishers to attend her funeral on March 23 at 11:00 a.m. at St. James Episcopal Church, 9 Williams St., Clinton, NY., with a reception to follow in the Dwight Lounge of the Hamilton College Bristol Campus Center on Campus Road. In lieu of flowers, please consider donations to the Women's Fund of Herkimer and Oneida Counties, Inc., 2 Williams St., Clinton, NY 13323 or the Stevens-Swan Humane Society, 5664 Horatio St., Utica, NY 13502. Owenspavlotrogers.com
Memorial Service
11:00 am
Saturday, March 23, 2019
St. James Episcopal Church, Clinton, NY
9 Williams Street
Clinton, New York, United States