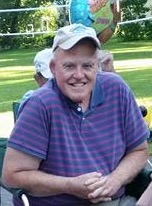 Obituary of Lance Croman
Lance "Sonny" Croman, 69, passed away unexpectedly, July 20, 2017 at St. Elizabeth Medical Center.
He was born November 23, 1947, a son of the late LaRue and Leona (Raup) Croman. Lance graduated from Gates-Chili High School in 1965. On December 8, 1979 in New York Mills, Lance was married to the former Stephanie J. Yefko. He retired from Oneida County BOCES in November of 2013, after many years of service. Mr. Croman was a U. S. Army veteran. At one time, he was a member of the Clinton Fire Department and was the last Chief of the Lairdsville Fire Department.
Lance will be remembered as a loving husband, father, and grandfather; he was always in the stands at his grandchildren's sporting events, or any other school related event. He had a great love for all animals and enjoyed watching Jeopardy. He is survived by his beloved wife, Stephanie; two sons, L.J. Croman of Las Vegas, and Adam Croman of Westmoreland; five daughters and sons-in-law, Karen Croman of Utica, Tammy and Rob Maciol, Melanie and John Moorehead all of Holland Patent, Amy Croman of Utica, and Heather and Eric Drummond of Vernon Center; his adored grandchildren who affectionately referred to him as "Bum", including, Ian, Ryan, and Kyle Drummond, Amanda, Robert, and Sydney Maciol, Ariana Moorehead, and Shane Moorehead; a brother and sister-in-law, Jon and Joyce Croman of VA; and a sister and brother-in-law, Lana and Robert Leschhorn of Ontario. Also surviving are several nieces, nephews, great nieces, great nephews, and a sister-in-law, Janet Slaga, her companion, Philip Scalise both of Deerfield; and his canine companion Buddy. He was predeceased by a sister, Monica Morris.
All are invited to call on Wednesday, July 26, 2017 from 4pm to 7pm at Owens-Pavlot & Rogers Funeral Service, Inc., 35 College St., Clinton. A Celebration of Lance's Life will be held at the Lairdsville United Methodist Church 6925 Route 5, Clinton, NY 13323 at 11:00 a.m on Thursday. Burial will follow in Crown Hill Memorial Park. Please consider donations in Lance's memory to the Lairdsville United Methodist Church, PO Box 477 Westmoreland, NY 13490.