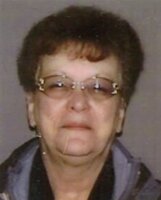 Mary Ellen Harrison
Mary Ellen Harrison, age 71, passed away peacefully on Monday, May 15th, 2023, in New Hartford, New York, surrounded by her loving family.
She was born on April 19, 1952, in New Hartford, New York, a daughter of the late John and Matilda Morrison. Mary Ellen attended Miller Grade School, UFA, and Westmoreland Central School. Also graduated from Florida State College, with a degree in applied sciences.
On May 16th, 1970, she married the love of her life LeRoy B. Harrison, Jr. Two sons were born, Michael G. Harrison (1972) and son David O. Harrison (1974). David passed in 2018. David and his wife Tracy, gave us two awesome granddaughters, Shannon and Katherine Harrison. (Both college graduates)
Mary being 1 of 13 kids, had a tremendous amount of friends and family. Predeceased by sister Jean, was her closest. Her closest friend was Carolyn Morrison. So many brothers, sisters, nieces and nephews, and she loved them all.
Mary Ellen worked all her life at various jobs, such as Woolworth's in New Hartford, NY, Sunoco and Sherrill Gas Stations, Serway Brothers in Rome, New York, Tampa Times Newspaper in Tampa, Florida, and finally Metropolitan Insurance in Oriskany, New York, for 20 years.
Mary had a love of many hobbies including, ceramics, dancing, playing pinochle, Bingo, long walks and her shih tzu dog Lilly.
Relatives and friends are invited to the graveside service at St. Peter's Cemetery in Rome, New York at 2:30pm Thursday, May 25, 2023.
In lieu of flowers, remembrances in Mary's name may be made to Central Oneida County Volunteer Ambulance Corp, 7489 East South Street, Clinton, New York 13323