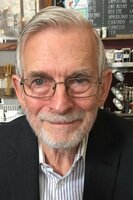 Ronald P. Fess
Ronald P. Fess, 81, passed away peacefully on the evening of Wednesday March 8, 2023.
He was born in Greece, NY on May 26, 1941, to the late William and Helen (Werner) Fess. After high school Ron went on to Utica College where he received his bachelor's degree in engineering. Ron worked for 37 years at General Electric in Utica, retiring as the Quality Management Director.
In 1989 Ron married Pamela Collmer and they joined their families and started a wonderful life together. They enjoyed their yearly trips to St. Marten, always made time for coffee dates no matter how busy they were, took rides on the Harley, and were truly each other's best friend and support system. Ron was a stickler for quality after a 37-year career in engineering. He was qualified for all sorts of home improvement projects, pool installations, and keeping a well-manicured yard, all which he took great joy in doing.
Ron is survived by his loving wife of 31 years, Pamela Fess; children and their spouses, Ronald Fess Jr., Randall Fess, Richard and Cheryl Fess, Roxanne and Rob Bristol, Anne Marie and Jim Latshaw, Ashley and Ramon Suffo, Philip and Kelsey Fess; grandchildren, Lauren, Mackenzie, Adrianna, Alexandra, Amanda, Nick, Easton, Juliette, Henry, Angelo, Renee; and last but not least his K-9 companion, Primrose.
The family wishes to extend a special thank you to Emily, Angela, and Paula who took such great care of him while he was at Sitrin.
All are invited to Ron's Funeral Mass at 11:30AM on Thursday March 16, 2023, at St. Paul's Catholic Church in Whitesboro, NY. Ron will be laid to rest in St. Mary's Cemetery in Clinton.
In lieu of flowers please consider a donation in Ron's name to St. Paul's Catholic Church, 16 Park Ave, Whitesboro, NY 13492.