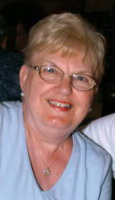 Marlene E. Tritten
Marlene Tritten, age 86, passed away peacefully on February 18, 2023 at Crouse Hospital in Syracuse after an illness.
Marlene was born in Rome to Phillip and Evelyn Staple on October 14, 1936. She was a 1955 graduate of Rome Free Academy. She married Donald Tritten on March 5, 1960. Marlene worked as a buyer of children's wear at Goldberg's Dept. Store for many years and was an active member of the Westmoreland United Methodist Church, a Sunday School teacher, and the Westmoreland Fire Dept Auxiliary. She was an avid reader, bird watcher and loved spending time at the "camp house" on Lake Ontario.
Marlene is predeceased by her mother, father and older brother, Merrick. She is survived by her husband, Donald; three daughters Crystal Filer, Donna (Chuck) Kokoska and Kathy (Greg) Pilbeam. She has four grandchildren, Elizabeth Jutton, Jon Filer, Marlene and Joyce Pilbeam and three great grandchildren Madisyn and Lorelei Jutton and Taylor Filer; also a brother, Edward Staple and niece Yvette.
Relatives and friends are invited to calling hours at Owens-Pavlot & Rogers Funeral Service, 35 College St. Clinton on Thursday, Feb. 23 from 2-4 or 6-8. Funeral services will be on Friday, Feb. 24 at 11 am at Westmoreland United Methodist Church on Main St. Westmoreland.
In lieu of flowers, donations can be made in Marlene's name to the Westmoreland United Methodist Church Memorial Fund at P.O. Box 245 Westmoreland, NY 13490.