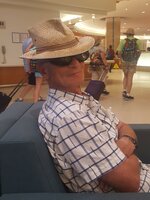 Francis A. Novak, Jr.
Francis A. Novak, Jr, 79, passed away peacefully on January 12, 2023.
He was born in Utica on July 16, 1943, a son of the late Francis A. and Adele Novak Sr. Frank retired from CNY Psychiatric Center and worked at House of Good Shepherd following his retirement.
He is survived by his wife, Kathleen Novak; a son, four daughters and their families, Francis A. Novak III, Gretta Schuler, Katrina Kubit, Nina Lewis, and Alycia Rotondo; fifteen grandchildren; a great-grandchild; stepsons, Joseph O'Donnell and David Emmerick; a sister Jean Davis; two brothers, David Novak and Richard Novak; and his nieces and nephews.
Services will be held at a later date. Please consider donations in his memory to St. Jude's.