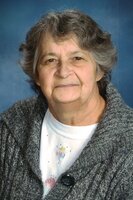 Joann M. Stockbridge
Joann M. Stockbridge, 75, passed away at home surrounded by her loving family on January 10, 2023.
She was born October 21, 1947, in Oneida, daughter of the late Thomas and Margaret Carroll Beasock. Joann was united in marriage to Thomas E. Stockbridge on October 17, 1964, at Church of the Annunciation. They shared over 41 years of love and devotion until his passing on May 3, 2006. Joann worked at Martin Luther Nursing Home for many years. Known as "Camper Jo" at Treasure Isle, she shared her annual countdown to the start of camping season. Joann always looked forward to fishing and spending time with her family and friends. She loved her animals and enjoyed sitting down with a good book.
She will be missed by her children and their spouses, Carl and Mary Stockbridge of New Hartford, Thomas and Melissa Stockbridge of Clark Mills, and Peggy and Todd LaBarge of Blossvale; her beloved grandchildren, Roseanna and Patrick Duffy, Shannon Stockbridge and Brandon Battles, Taylor Stockbridge and Austin Allen, Brittany Stockbridge and Caleb Bause, Shelby Stockbridge and Jared Williams, Richard and Brittany LaBarge, and Samantha LaBarge and Brian Morrissey; her cherished great-grandchildren, Harrison, Dorothy, Eowyn, Stevie and Gabby; her brothers, Pete Kapsho of Rome, and Robert and Cindy Beasock of FL; sisters, Tracy and Rodney Bronson of Westmoreland, and Millicent and Randy Rieker of Niagara Falls; brother-in-law, Ken DiMatteo; many nieces and nephews; and her dog R2 and cats Sam and Max. She was predeceased by her parents, her husband Tom, and sister Carol DiMatteo.
All are invited to call Friday, January 13, 2023 from 4-7pm at Owens-Pavlot & Rogers Funeral Service, 35 College St., Clinton. Private services will be held for the family with burial at Kirkland Cemetery.
In lieu of flowers, please consider donations to Hospice & Palliative Care.