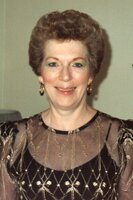 Patricia J. (Sullivan) Stuart
Patricia J. (Sullivan) Stuart, 85, of Clinton, passed away December 19, 2022, at Katherine Luther after a valiant battle with Vascular Dementia.
She was born in the Bronx, February 1, 1937, a daughter of the late Edward and Ruth (Bernhardt) Hogan. Patricia, fondly known as Trish or Pat, grew up in New York City with her four siblings. At one time, she was married to Vincent Sullivan and they remained friends. They shared three children and moved to Long Island. She entered the work force while the children were in elementary school working for many years in the Catalog Department of Sears Roebuck. Being a working mother did not stop her from being class mother, going on field trips and being a Girl Scout Cookie Mother. Pat worked many places over the years including Sure-fit and Owens Corning in New York City, ending her career working as a bus driver for private schools before retiring in 2008.
In the early 1980's, Pat wishing to further her education, returned to college. She earned her Associates Degree from St. John's University in the spring of 1983.
In 1992, she was married to Charles Stuart. It was during this time that Trish started to visit Scotland to be with Charlie's family. They enjoyed travelling, spending time at grandchildren events and bowling together. She comes from a family of bowlers and continuously participated in leagues and tournaments until 2012. At one time, she was in a crafting business, Grama Bears, with her sister Virginia and sister-in-law Jeanne. They would sell their merchandise at area fairs.
After Charlie's passing, Trish eventually moved to Iowa to be with her sister Carole and her family, subsequently returning to New York in 2012. Pat enjoyed quiet times reading, doing crossword puzzles and Sudoku, knitting and crocheting. She enjoyed attending musicals with her friends and loved to travel. Most of all she enjoyed spending time with her family.
Patricia is survived by her children Jean Sullivan, Karen Sullivan (Leonard Panzica) and Michael Sullivan; grandchildren Brandi (Alan), Timothy (Cara), Daniel (Amanda), Rhiannon (Sean), Lindsay, Shannon, Derek (Bridget), Kevin (Kimber), Heather (Vincent) and Sean; great grandchildren Hailey, Leah, Kylee, Robert, Brandon, Aiden, Hudson, Fiona and Audrey; her brother James Hogan and brother-in-law Richard Keefe. Also surviving are her Godchildren, many nieces and nephews, great nieces and nephews. In addition, her stepchildren Gregg (Nancy) Stuart, Glenn Stuart, Cheryl (Robert) Lento, seven step-grandchildren and three step-great-grandchildren.
She was predeceased by her husband Charles, her previous husband Vincent, sister and brother-in-law Virginia and Robert Sullivan, sister Carole Keefe, brother Peter Hogan, sister-in-law Jeanne Hogan, brother-in-law and sister-in-law John and Mary Sullivan and her step daughter-in-law Kelly Stuart.
The family would like to thank the staff of the Gordon Unit at Katherine Luther for all their care and kindness, especially Alice, Diana and Stephanie.
All are invited to visitation on Wednesday, December 28, 2022, from 5-8 pm at Owens-Pavlot & Rogers Funeral Service, 35 College St., Clinton. A Mass of Christian Burial will be celebrated on Thursday at 10:30 am at St. Mary's Church in Clinton.
Flowers are most gratefully declined. For those who wish to make a contribution in Patricia's name please consider St. Jude's.
"Enjoy your time at the pinochle table with your family."