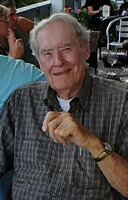 Carroll Rector "Lindy" Bennett
Carroll R. "Lindy" Bennett, 92, passed away at home with his loving wife by his side on November 28, 2022.
He was born in Rappahannock County, Virginia on October 24, 1930, the baby boy of fourteen children of the late Cumberland Seymour and Octavia Rhoda (Jenkins) Bennett. Carroll served his country in the United States Army. During his service, he was an escort for President Eisenhower and served with the Honor Guard at the Tomb of the Unknown Soldier. On June 29, 1955, he was united in marriage to Eva McCoy. They shared a loving union of 67 years. Before moving to NY and after Annandale, they came up from living in Jeffersonton, in Culpepper, VA for 32 years. Carroll enjoyed gardening and grew the best tomatoes! He was a devoted husband, father, and grandfather, and cherished the times spent with his family.
He will be missed by his wife, Eva; his two sons, a daughter and their spouses, David Ronald and Linda Bennett of FL, Brenda and Kevin Karin of Clinton, NY, and Jeffrey L. and Karen Bennett of FL; five beloved grandchildren, Staci, Cameron, Paige, Michael and Katie; five cherished great-grandchildren, Merrick, Ainsleigh, Kensington, Gianna, and Aubree Octavia; and many nieces and nephews he loved dearly. He was predeceased by his parents, his brothers, and sisters.
There will be no public services at this time. Arrangements by Owens-Pavlot & Rogers Funeral Service, Clinton, NY.
Please consider donations in Carroll's memory to Little Fork Fire Department, 6011 Rixley Road, Rixleyville, VA 22737.