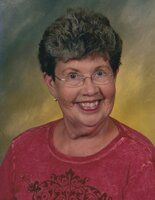 Betty H. Martin
Betty H. Martin, of Westmoreland, died on November 11, 2022, on her birthday, with her daughter, Sandra and son, Norman by her side.
She was born in Utica to the late W. Clarence and Hazel F. (Smith) Humphrey. She grew up on Creaser Road and graduated from Westmoreland Central School, class of 1948. After high school, Betty went on to graduate from the Utica State Hospital School of Nursing and then got her Bachelor of Nursing from Utica College. She worked for over 37 years at the Mohawk Valley Psych Center as a Registered Nurse. She then went on to work at the Oneida County Mental Health Clinic and the Herkimer Clinic for over 17 years as a Nurse Instructor and Educator.
Betty was a member of the Westmoreland United Methodist Church where she married her late husband of 46 years, Norman L. Martin in 1955 and served on many committees. She was on the board and was a trustee of the Westmoreland Union Cemetery, was part of the Westmoreland High School Alumni Association, and was a charter member of the Westmoreland Fire Auxiliary.
Betty loved the numerous lunch dates and shopping trips with her beloved grandchildren. She looked forward to her casino trips with her cousin Doug, although she always swore, she'd never go again. Betty was an animal lover with many pets throughout her life, and was an avid supporter of local and national humane societies and animal charities.
Betty leaves behind her children, Norman & Colleen Martin, Sandra & AJ Smith; grandchildren, Joseph Karas, Joshua (Kathleen) Karas, and Chelsea (Dominick) Calhoun; cousins, Douglas (Carmella) Smith, and Doreen Smith, and many cherished friends. She was predeceased by her husband.
All are invited to calling hours for Betty on Wednesday November 16, from 11AM-1PM at Owens Pavlot & Rogers Funeral Service, Clinton. A service to celebrate Betty's life will take place immediately following calling hours at 1PM. She will be laid to rest privately at Westmoreland Union Cemetery with her beloved husband.
In lieu of flowers please consider a donation in Betty's name to the Anita's Stevens Swan Humane Society, The Humane Society of Rome, or Spring Farm CARES.