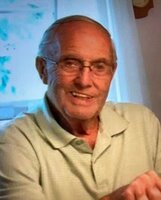 Bill "Woody" Woodward
William "Bill" "Woody" R. Woodward, 89, of Deansboro, passed away Tuesday, October 11, 2022, at the Crouse Community Center in Morrisville, NY.
Bill was born in Gouveneur, NY, on September 18, 1933, to the late Claude and Alice (Austin) Woodward. He was a smart young man but enlisted in the Navy at the Age of 16 to serve his country. When he returned from the Navy, he met the love of his life Elizabeth "Betty" Engells. They were married for over 65 years and created a beautiful family.
After serving his country Bill went to MVCC and got an associates Degree. He went on to work at General Electric in the Aerospace division for over 40 years. He truly enjoyed residential electrical work and had his own business doing this. He was a member of the American Legion in Waterville, the assessor for the Town of Marshall, and was a member of the Barton Hose Company in Deansboro.
Bill leaves behind his loving wife, Betty; children, Kim Hughes, Deansboro, Dana Champion, Deansboro, Dan and Wendy Woodward, Waterville, Steven and Denise Woodward, Deansboro, Kenneth and Peta Woodward, Australia; Siblings, Art and Laurie Woodward, Florida, Marsha Gaffney, Sacketts Harbor; grandchildren, Jessie, Tempe, Amos, Chelsea, Nicholas, Seth, Patrick, Sean, Steven, Stephanie, William, Charlie; and 7 great-grandchildren. He was predeceased by his son, William Woodward; son-in-law, Gary Hughes; sister-in-law, Jackie Woodward; step-mother Dorothy Woodward; and brother-in-law John Gaffney.
All are invited to calling hours on Saturday, October 22nd, from 10am- 12pm at Owens-&Rogers Funeral Service, Clinton. Immediately after calling hours Bill we buried in the Deansboro Cemetery with a graveside service and military honors.
In lieu of flowers please consider a donation in Bill's name to the Barton Hose Company.