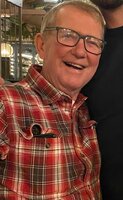 David B. Harris
David 'The Bear' Harris, 71, passed away with the love and support of family by his side on September 26, 2022. Dave was born on February 6, 1951 in Rome, NY. He was the son of Marjorie (Murphy) Harris of Venice, FL and the late Robert C. Harris. Dave graduated from Rome Free Academy in 1969 and received a Bachelor of Science degree from Saint Lawrence University in 1973.
Dave was always industrious. He started working for his Uncle Bill's construction company, where he was proud to have been part of the construction of a church. He worked at the Equitable leasing department in New Jersey, then moved to Cazenovia to begin his career at the Equitable Life Insurance Company, where he served as an agent and manager. During that time, Dave earned the designations of Chartered Life Underwriter (CLU) and Chartered Financial Consultant (ChFC). He also completed a Masters of Science in Financial Analysis (MSFA) from the American College. After leaving the Equitable, Dave went into private practice as a charter partner of CenterBridge Planning Group. His integrity and service earned him the trust, respect, and often friendship of his clients.
Dave had many interests, including his lifelong love for music. He was an athlete who played football and ice hockey in high school, and went on to play collegiate ice hockey at Saint Lawrence. Dave was an Eagle Scout. In the summer of 1968, he was accepted by American Field Service to go to Ecuador as an exchange student, which was a very significant memory for him. Dave was dedicated to serving the community and was President of the Board of Directors of the ARC Oneida-Lewis Chapter from 2006-2009. He was an avid golfer, frequently participating in charitable golf outings, and was a member at Barker Brook Golf Club for many years. He was a knowledgeable mycologist, and was the photographer and co-author of a published book, Milk Mushrooms of North America. In the warmer months, you could find Dave tending to his gardens, or enjoying his family's camp at Chases Lake. In the winter months, Dave enjoyed skiing, and spending time in his shop as an accomplished woodworker, always expanding his expertise in the craft. His appreciation for wood extended to the many varied trees Dave planted on the Harris property, and in his support of the Arbor Day Foundation.  
Dave is survived by his partner Trisha (Ward) Harris; his two children Jeffrey David (Ashley) Harris of Fort Myers FL, and Ashley Brooke Harris of Malvern, PA; his mother Marjorie (Murphy) Harris; his brother Todd (Mary Jo) Harris; two sisters-in-law, Tracey Harris and Susan Harris; and his uncle Bill Harris and many loving family members. Dave was predeceased by his daughter Kristin Lucy, and brothers Brett and Rick.
A memorial service and celebration of life will be held on Sunday October 16, 2022 at 12pm at Hayloft on the Arch, 5742 Norton Road Vernon Center NY. Close friends and family are all welcome to an open house at the family home in Clinton on Saturday October 15, 2022 from 11am to 3pm.
In lieu of flowers, donations are welcomed in Dave's name to the Muscular Dystrophy Association (click for link) or the Clinton Fire Department, c/o 43 Beatty Ave, Clinton, NY 13323.