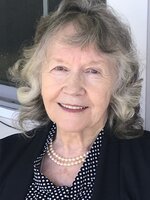 Katherine I. Peck
Katherine E. Ireland Peck, OCDS, 89, passed away on September 17, 2022, at Waterville Residential Care Center, surrounded by the love of her family.
She was born in Utica on November 27, 1932, the daughter of the late Raymond H. and Mary Ellen (Quinn) Ireland. She graduated from Waterville Central School in 1951 and attended Faxton Hospital School of Nursing and Utica College. She was a school bus driver, a 19A Examiner and SBDI (School Bus Driver Instructor) with Clinton Central School. She retired in 1991. Katherine is a Secular Order Carmelite with St. Joseph Protector Community, having taken final vows November 11, 2000. She was the historian at St. Bernard's Church in Waterville for many years. In 1953 she married the late John I. Peck. In 1989 she married the late Theodore Gall.
She leaves eight children and their spouses, John (Janine), Jeffrey (MaryKay), Bernard (Michelle), Christopher (Shannon), Mary Ellen Zombek (Stanley), Suzanne (Mark) Ruane, Kathleen (Timothy) Fitzgerald, Annemarie (James) Jones Glouse; daughter-in-law, Nancy Peck; 34 grandchildren; 46 great-grandchildren; and 2 great-great grandsons. Also 8 step-children; 20 step-grandchildren; and 23 step-great-grandchildren.
She was predeceased by her parents; her son James; son-in-law, Timothy Fitzgerald; two grandchildren, Brittany Jane Ruane and Colby John Jones; siblings, Joan Stedman, Raymond P. Ireland, Charles Ireland and step-son Terry Gall.
Growing up on the family farm on Bogan Road, Katie was very proud of her Irish heritage and her devotion to God was incredibly strong. She lovingly taught her children the importance of togetherness and love. And although she had a very large family, she treated them all equally and never played favorites. She loved to sing and play the piano and she always was the first (and last) on the dance floor at a party. She marveled at God's beautiful creations and was a talented artist, capturing that beauty for all to see. She attended many Muzzleloader Shoots and passed onto her grandchildren a love of primitive camping and love of the outdoors. She was always concerned about others; never herself, even in her final days.
All are invited to call Wednesday, September 21, 2022, from 5-7pm at Owens-Pavlot & Rogers Funeral Service, 35 College Street, Clinton. A Mass of Christian Burial will be celebrated at 11am Thursday at St. Bernard's Church in Waterville. She will be laid to rest at St. Bernard's Cemetery.
The family would like to extend a special thank you to the staff at Waterville Residential Care for the compassion they showed Katie, especially her granddaughter Courtney Ruane, and also to granddaughter Jennifer Jones, both of whom took great care of our mother.
Please consider donations to St. Bernard's Church or the American Heart Association.