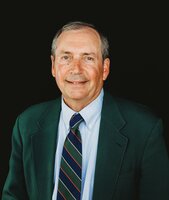 David J. Burns
David John Burns, 68, passed away on September 13, 2022, surrounded by the love of his family at the Siegenthaler Center in New Hartford.
He was born in Utica on May 3, 1954, a son of Nicholas K. and Claire C. Burns. Dave graduated from Clinton High School in 1972, attended St. Lawrence University, and joined his father at The Burns Agency in 1977. After his father's passing he became the proud owner of the business in 1984. He served the Clinton community for 45 years as an insurance agent and broker until his passing.
On June 11, 1983, he was united in marriage to Lisa Alteri at St. Mary's Church. The couple shared nearly 40 years of love and devotion.
Dave was Mr. Clinton, one of the nicest guys in town who loved his community. He was an active member of the Clinton Fire Department from 1975, a member of the Town of Kirkland Jaycees from 1977 until its end in 2001, and the youngest president of the Clinton Chamber of Commerce from 1979 to 1981.
He was a board member of the Ralph S. Lumbard Memorial Commission since 1983, the Clinton Rink Association since 1984, and the Community Party since 1980. He was on the CCS All Class Reunion Committee and Co-Chair in its last year in 2013. And he helped select and book the bands for the summer Tuesday Concerts on the Green.
He was also instrumental in helping his brother Andy plan and organize the Thank You Albert Prettyman weekend celebrating the 100th anniversary of Hamilton College and Clinton hockey. The event inspired Clinton's NHL Hockeyville USA designation and a $150,000 grant for the Clinton Arena.
Dave loved golf and played at the Skenandoa Club every year since its founding in 1964. As Dave always said, he played as much golf as possible but never enough. He played Sunday night hockey at the Clinton Arena until just a few years ago. He loved playing and watching sports, especially his beloved New York Rangers, with his favorite beer, Utica Club.
Dave was especially known for his love and devotion to his son, David Jr. It was rare that you would see Dave without David. You'd often catch Dave wheeling him up College Street to Alteri's Restaurant or to the Clinton Arena for a high school hockey game.
He will be missed by his wife, Lisa; his three children, Beverly Claire Burns and Stephen Bellair II, Chelsea Marie and Sam Spellman, and David J. Burns, Jr.; two cherished grandchildren, Vona Lisa and Baker Owen; two sisters, two brothers and their families, Nicholas K. Jr. and Suzy Burns, Jane Burns and Debi Loober, Carrie and Chris Evans, and Will and Elizabeth Burns; in-laws, Lori Newman, Lillian Alteri and Steve Levins, and Francis and Lisa Alteri; and many nieces and nephews. He was predeceased by his parents, Nicholas K. and Claire C. Burns; his brother and sister-in-law, Andy and Julia Burns; and his in-laws, Fernando and Beverly Alteri.
All are invited to call Sunday, September 18, 2022, from 3-6 p.m. at Owens-Pavlot & Rogers Funeral Service, 35 College St., Clinton. A Mass of Christian Burial will be celebrated at 10:30 a.m., Monday at St. Mary's Church in Clinton. He will be buried at St. Mary's Cemetery.
Dave's family would like to thank his doctors at Slocum Dickson Medical Group, his oncology team at Faxton St. Luke's Healthcare as well as the staff of the ER and NVU at St. Luke's Hospital for their caring support. Lastly, the Burns family wishes to extend their heartfelt appreciation to the entire Hospice & Palliative Care team at the Siegenthaler Center–thank you for doing the work that you do.
Please consider donations in David's memory to Clinton Fire Department or Hospice & Palliative Care.