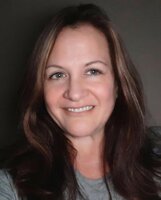 Amanda L. Thaler
Amanda L. Thaler, 41, passed away unexpectedly on August 21, 2022.
She was born in Utica on October 26, 1980, the daughter of Garry Thaler and Pauline Abraham Thaler. Amanda was affectionately known as "Mackie" by her family and friends.
She is survived by her beloved son and the joy of her life, Ashton Stoddard; her father, Garry Thaler of Westmoreland; her mother and step-father, Pauline and Barry Dickstein of CT; her sister Jessica Thaler and nephew, Grayson Salerno of Queensbury, her step-sister Lisa Jordan of Old Forge, her parental grandfather, Charles Thaler; her maternal grandfather, Joseph Abraham and many special aunts, uncles and cousins. She was predeceased by her grandmothers, Nancy Abraham and Lois Thaler and her step brother Rob Smith.
Amanda had many struggles in her much-too-short life but she had a kind and caring heart. She took great pride in her care of both grandmothers in their later years and the many residents she cared for during her work for United Cerebral Palsy.
A Mass of Christian Burial will be celebrated at 10:30am Saturday, September 24, 2022, at Church of the Annunciation in Clark Mills. All are invited to greet the family an hour prior to Mass at church. In lieu of flowers, donations can be made to either The Country Pantry, PO Box 76, Clinton, NY 13323 or to NAMI (National Alliance on Mental Illness) through their website: http://www.nami.org. Arrangements by Owens-Pavlot & Rogers Funeral Service.