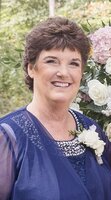 Renee E. Downs
Renee E. Downs, 60, passed away surrounded with love and her family by her side on August 7, 2022.
She was born August 8, 1961, the daughter of the late Frank and Mary Jane (Nester) Melie. Renee graduated from Peru High School and received her bachelor's degree from SUNY Potsdam. She was united in marriage to William P. "Chuck" Downs on April 5th, 1986, they shared a special love and friendship. She worked in education and information security for many years and was devoted to her students, customers, and employees. The word stranger did not exist in her vocabulary, it was just another opportunity to add a person to her circle of love. She was the most loving, caring person who had a special gift of making everyone feel special and you know you were welcomed into her family when she called you "Toots". That was her favorite term of endearment. Renee always put her family first and was the best daughter, sister, wife, mother, and mimi anyone could ever ask for.
She will be dearly missed by her husband William P. "Chuck" Downs of Canastota; her daughter and son-in-law, Marissa Downs and Jordan Mason of Richmond, VA; son-in-law, Roger Ivanowsky of Dalton, MA; cherished grandson, Emmett William Ivanowsky; brother and sister-in-law, Danny and Roxanne Melie of Clinton; her nieces, nephews, cousins, and family members, and a countless list of special loved ones and friends. If she were with us today, she would be telling us all "I Love you to the moon and back". She was predeceased by her parents and her daughter Mallory Downs-Ivanowsky.
The family respectfully asks that you wear a mask to greet them at visitation from 1-5pm Sunday, August 14, 2022, at Owens-Pavlot & Rogers Funeral Service, 35 College St., Clinton. Funeral services will be held at 10:30am Monday, August 15, 2022, at St. Mary's Church, Marvin St., Clinton. The family requests you wear a mask. She will be buried at St. Mary's Cemetery.
In lieu of flowers, please consider donations to Oneida Health Foundation, Hospice & Palliative Care, and Every Mother Counts.