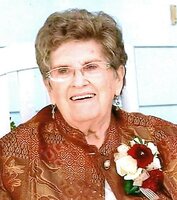 Betty Jane Griffin
Betty Jane Griffin, 93, passed away July 25, 2022, with her family by her side.
She was born October 4, 1928, to Ralph and Evelyn Hughes Clark at St. Elizabeth Hospital. She attended Clinton Central Schools graduating in 1946. She attended Utica Memorial Hospital and in 1949 she received her nursing degree. She married Albert Griffin on August 6, 1949 at St. Mary's Church in Clinton. They were married by Father Lawrence and resided in Clinton all their lives. She became Dr. Roger D. Moore's office nurse from 1963 until he retired in 1999. She continued working part-time at Clinton Family Practice on College Street until 2008. She taught religious ed classes at St. Mary's in the 50's and 60's and was a eucharist minister to the sick until 1993, member of the Altar Society and prayer list. She belonged to Utica Memorial Hospital Alumni and was secretary. She was a member of Schooltown Questers and the Clinton Historical Society, and enjoyed her bridge group.
She is survived by her children, Michael and Kandis Griffin of Old Forge, Kevin and Laura Griffin of Clinton, and Colleen Britcher of Clinton; her cherished eleven grandchildren and their spouses; she was very proud of and loved the fact she had twenty-four great-grandchildren and a great-great-grandchild on the way; and many nieces and nephews. She was predeceased by her husband Albert; brother Kenneth Clark; and son-in-law Brian Britcher.
All are invited to a Memorial Mass at 10:30am on Tuesday, August 2, 2022, at St. Mary's Church in Clinton. She will be buried at St. Mary's Cemetery. There will be no public calling hours. Arrangements by Owens-Pavlot & Rogers Funeral Service. Please consider donations to Clinton Fire Department or COCVAC.
The family thanks the doctors, nurses and staff of St. Luke's Rehabilitation Center for their kind and loving care of Betty.