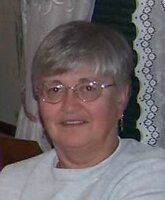 Irene Peterson
E. Irene Peterson, 80, passed into the arms of her Lord on July 16, 2022.
She was born in Utica on January 14, 1942, a daughter of the late Stanley and Enola (Henderson) Milligan. Irene worked at Faxton Hospital in the surgical unit for many years as an LPN. She was a devoted member of Immanuel Baptist Church in New Hartford where she will be remembered as a pillar of her church. Her service to God and her parish were an important part of her life. Irene was a Sunday School teacher and worked in the nursery for many years. She was a devoted member of the women's bible study group and the Rug Club. Irene was a devoted mother, grandmother and great-grandmother. She placed the needs of her family before her own and cherished times spent with them.
She is survived by her daughters, Tina and Steve Trybalski of Westmoreland and Tammy Wescott of Westmoreland; her five grandchildren, Joshua, Justin, Tara, Jennifer and Allison; her eleven great-grandchildren, Justin, Noah, Liam, Addyson, Skylar, Kristopher, Corrina, Leah, Serenity, Chase and Spencer; her two brothers, Keith Milligan (Victoria Peters) of Rome and Grant Milligan (Deborah Shipley) of PA; and many nieces and nephews. She was predeceased by her parents; two sisters, Isabelle Schaller and Jeannette Combs; and her infant daughter Gladys.
All are invited to call Monday, July 25, 2022 from 3-6pm at Immanuel Baptist Church, 9501 Weston Rd, New Hartford, NY. Funeral services will be held following visitation at the church at 6pm. Arrangements by Owens-Pavlot & Rogers Funeral Service.
In lieu of flowers, please consider donations in Irene's memory to Immanuel Baptist Church or the church of your choosing.
The family thanks the ICU nurses and staff at St. Elizabeth Medical Center, especially Melissa, for their compassion, kindness and caring nature and Irene's church family for their prayers, support and friendship.