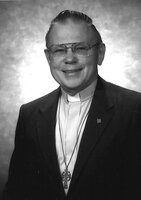 Norman J. Heid
Reverend Norman J. Heid went to be with his Lord and Savior on July 12, 2022.
He was a native of Liverpool, NY and a graduate of Hartwick College in Oneonta and the Lutheran Theological Seminary at Philadelphia. Pastor Heid served parishes in Orangeburg, Williamsville and Herkimer, NY. He retired from the Lutheran Home in Clinton after 24 years of service.
He is survived by his wife of 57 years, Susan; son John (Martha) Heid of Georgia; four grandchildren; and two nieces and a nephew.
Private services were held for the family. Arrangements by Owens-Pavlot & Rogers Funeral Service.
Please consider donations in Pastor Heid's memory to a service organization of your choice which helps people in need.