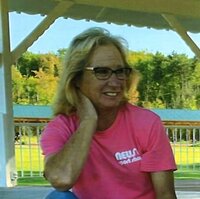 Crystal Kaye Davis
Crystal Kaye Davis, passed away July 7, 2022, at the age of 58.
She was born in Oak Harbor, Washington on September 27, 1963, a daughter of the late Forrest Hope and Marian Louise (Eltringham) Davis. She had been married to John Schachtler for a time and the couple reunited many years later. Crystal worked at Hannaford in Clinton. Crystal was an independent and private person by nature. She often portrayed her fun and free-spirited nature with the world along with her beautiful smile.
She is survived by her three sons, Jonathan and Lindsey Moseley of Rome, Anthony and Ayesha Moseley of VA and another son in the military; grandchildren, Wyatt, Cedaty, Blake, Brendan, Aaliyah and Aneesa; her partner, John Schachtler; siblings, Robin, Cheryl and Misty. Predeceased by siblings, Dale and Cynthia.
A Memorial Mass will be held at 5:30pm on Saturday, August 6, 2022, at St. Joseph's Church in Oriskany Falls.