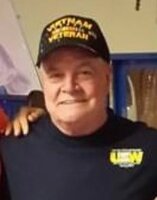 John Francis "Jack" Faniglula
John F. "Jack" Faniglula, 76, passed away unexpectedly on July 6, 2022.
He was born April 17, 1946, a son of the late Donald J. and Jule (Bowes) Faniglula. Jack served his country in the United States Navy. He was a Seabee stationed in DaNang during the Vietnam War. Jack worked at Winn's Furniture as a repairman for over 15 years, Hamilton College, and with Six Nations for many years. He was a member of the Clark Mills American Legion Post #26 and their Drill Team, as well at the VFW Post #9591. He was 1st Assistant Chief with Clark Mills Fire Department and a devoted NY Yankees fan. Jack loved to golf, enjoyed shooting, and played softball. His 1958 South Utica Little League team was inducted into the Utica Sports Hall of Fame.
He is survived by his daughter, Tricia Faniglula of Oneida; son Jason Faniglula of Clark Mills; six beloved grandchildren, Zack, Brittani Rose, Hunter, Kambrie, Kylee and Kaden; a great-granddaughter, Aria Rose; two brothers, Donald and Diane Faniglula of Springhill, FL and Robert Faniglula and fiancé Barbara Aceto of Frankfort; many nieces and nephews; and the mother of his children, Kathy Longden and her husband Jim. He was predeceased by his parents and two brothers, Daniel and David.
All are invited to call Tuesday, July 12, 2022, from 4-7pm at Owens-Pavlot & Rogers Funeral Service, 35 College St., Clinton. Graveside services with military honors will be held the following week at 10am on July 19, 2022, at St. Mary's Cemetery in Clinton.
Please consider donations in his memory to Sitrin Military Rehabilitation Program.