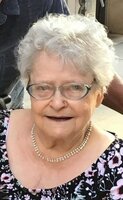 Carol E. Miller
Carol E. Miller, 82, of Clinton, passed away peacefully on June 29, 2022, with her family by her side.
She was born March 27, 1940, in Utica, a daughter of the late Robert and Florence (Roberts) Chase Sr. Carol was united in marriage to Vincent D. Miller Sr on April 23, 1960, at St. Joseph – St. Patrick's Church. The couple shared over 50 years of love and devotion. Carol enjoyed crafting and teaching ceramics. She was always adding special touches to her home and was quite handy with a glue gun. A highlight of her life was seeing Barbara Streisand in concert in NYC! She cherished her times with family and held the memories of her husband and sons in her heart.
She is survived by her daughter and son-in-law, Lisa and Erick Miller of Central Square; her granddog Shooter; sister Christine Eastman; and many nieces and nephews. She was predeceased by her husband; two sons, Michael Arthur, and Vincent D. Miller Jr and his longtime companion, Loretta "Samm" Barber; her brothers, Robert Chase Jr and James Chase; and her granddog Kolbe.
A Mass of Christian Burial will be celebrated at 10:30am Wednesday, July 6, 2022, at St. Mary's Church in Clinton. All are invited to call on Tuesday from 4-7pm at Owens-Pavlot & Rogers Funeral Service.
Please consider donations in Carol's memory to Cystic Fibrosis Foundation, 200 Gateway Park Drive, Bldg C, N. Syracuse, NY 13212.