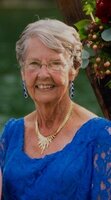 Jacqulyn M. "Jackie" Wadsworth
Jacqulyn "Jackie" Wadsworth, 85, passed away June 21, 2022, surrounded by her family.
She was born November 16, 1936, the daughter of the late Paul J. and Stella (Landry) Urtz. Jackie graduated from Clinton High School in 1955 and lettered in every sport in which she participated. She organized all of their class reunions. She was a member of Rotary-Ann's and hosted the Rotary Halloween Costume party at her home for many years. Jackie was a lifelong member of St. Mary's Church. She was a naturally giving person and would lend a hand to anyone in need. She was the Office Manager at Mohawk Valley Dairy for many years and worked at Hannaford after her retirement, where she was given the annual Customer Service Star award. Jackie rarely sat idle, but when she did it was with a book in her hands or watching the birds. She had a fierce love for her family. Her favorite times were spent with her children, grands and great-grands. She always looked forward to their trips to Otter Lake. She cherished her years with her fiancé, Leonard Murphy. They were always on the go – travelling, ballroom dancing, snowmobiling, boating and golfing. She also enjoyed their quiet times together and cocktail hour with Murph every night before dinner. She had quite a green thumb and her family will miss her cooking; especially her strawberry pie.
She will be missed by her fiancé, Leonard Murphy; her five children and their spouses, Cynthia and Kenneth Grabeldinger, James and Lynne Wadsworth Jr, Steven and Robin Wadsworth, Brian and Sharon Wadsworth, and Mary Wadsworth and Ray Madore; her stepsons and their wives, Daniel and Megan Murphy, Donald and Adrienne Murphy, and Leonard and Noelle Murphy III; twenty-four grandchildren; seventeen great-grandchildren; her sisters, Patricia Wadsworth and Carolyn Morehouse; and many nieces and nephews. She was predeceased by her parents and sister Judith Champney.
Visitation will be Tuesday, June 28, 2022, from 5-7pm at Owens-Pavlot & Rogers Funeral Service, 35 College St., Clinton, followed by a Celebration of Jackie's Life at 7pm. A Mass of Christian Burial will be celebrated at 10am Wednesday at St. Mary's Church in Clinton.
Please consider donations to American Stroke Association at Stroke.org.