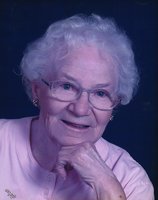 Ethel E Burnett
Ethel E. Burnett, 99, passed away peacefully November 2, 2019 at the Abraham House in Rome surrounded by the love of her family.
She was born on November 8, 1919 in Rome, NY, daughter of the late George & Edna Baker. She graduated from Westmoreland Central School in 1938 and continued her education in Chicago at The Chicago School of Aircraft Instruments and Aviation Training. There she learned how to repair the instruments and also learned how to fly. She married Wallace "Wally" Burnett on November 22, 1944, a loving marriage until his death on February 12, 1997. In her younger years she enjoyed Flying in a Piper Cub. She had her pilot's license until the birth of her first child. She retired from Montgomery Wards in 1982. She loved playing pitch with her Wednesday pitch partners and going to the Casino with her best friend Dorothy Walker. She looked forward to going camping at Jacques Cartier with her family every August.
She was a past member of the Stanwix Heights Volunteer Fire Department Auxiliary and a past member of the Westlanders Seniors Citizens. She is a member of the Clark Mills American Legion Auxiliary Unit #26 and a member of the Kirkland Senior Citizens.
She is survived by one daughter Sharleen Machold and her fiancée Ken Ellis of Clark Mills; four grandchildren, Jamye (Tom) Potucek, Bonnie (Jamie) Jacobs, Patrick (Robin) Clark Jr., Tom (Mary) Clark; eight great-grandchildren, Kayla & Thomas Potucek, Ryland & Shelby Jacobs, Lynette & Megan Clark, Josh (Danielle) & Brittany Clark; a very special niece Edna McConnell; great niece Barbara McConnell; nephews Jim Gendron, Ed (Teresa) Burnett and John Burnett; and son-in-law, Patrick M. Clark Sr.
She was predeceased by her husband, Wallace R. Burnett February 12, 1997; her daughter Bonita (Bonnie) Clark on June 15, 1975; and two sisters – Iva Morris & Sophia Gendron.
All are invited to call from 4-7pm Friday, November 8, 2019, on what would have been her 100th birthday at Owens-Pavlot & Rogers Funeral Service, Inc., 35 College St., Clinton. Funeral services will be held Saturday at 10am at the funeral home.
In lieu of flowers, please consider donations to The Abraham House of Rome, 417 N. Washington St., Rome, NY 13440, for taking such wonderful care of Ethel in the short time she was there.