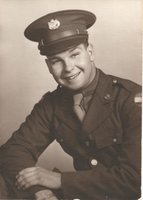 Sidney J Owens
Sidney James Owens
1926-2019
"Look not on his countenance, or on the height of his stature; for the Lord seeth not as a man seeth; for man looketh on the outward appearance, but the Lord looketh on the heart"
Sidney James Owens, age 93, of Westmoreland, N.Y. went to be reunited with his beloved wife, Freda, on October 26, 2019. He was born in Sauquoit, New York on August 2, 1926 the son of Owen William Owens and Caroline May Williamson Owens
He attended Sauquoit High School. At the age of 17 Sidney left high school to enlist in the Army. After 25 weeks of infantry training, his division departed the US and landed on the beaches of France on D-Day plus 5 - one month after his 18th birthday. As a squad leader for a heavy weapons crew he earned several campaign ribbons for seeing action in France, Belgium, and Germany. Sidney was most proud of being awarded the Bronze Star Medal for, "heroic or meritorious achievement in ground combat against the armed enemy during WW II in the European Theater of Operations". In November of 1946, holding the rank of Sergeant, he received an Honorable Discharge from the Army.
When Sidney returned home his aunt introduced him to a pretty little brunette by the name of Freda, who operated her family grocery store on Dudley Ave. in Utica. On May 29, 1948, he married Freda H. Ferris, who was the joy of his life, in Saint Francis De Sales Church. They were married for 68 years.
Sidney was a toolmaker by trade having worked at Bendix and Chicago Pneumatic before finally retiring from Rome Turney in 1994.
Sidney loved hunting, playing cards with friends, reading his Zane Gray westerns novels and being with his family. He was a man of integrity, and kindness. A quiet giver of service to his church, family and friends, asking nothing in return. He was an active member of The Church of the Annunciation in Clark Mills for over 50 years.
Sidney leaves his four children: daughter, Gloria (Dan) Buynak of Towanda, Pa., his two sons, Lawrence (Debborah) Owens of Canastota, NY, Gregory (Victoria) Owens of Superior, Wisconsin, and a daughter, Jennifer Owens Harp of Florida.; twelve grandchildren, and twenty-one great grandchildren. He also leaves 2 sisters-in-law: Dolores Legare of New Hartford, and Ceil Ferris of Rome NY, 2 brothers-in-law: Charles Ferris of New Hartford NY and Ronald Ferris Of Chestertown MD.; as well as numerous nephews, nieces and cousins. Sidney was predeceased by beloved wife, Freda, his parents, and a brother, Earlin.
A Celebration of Sidney's life is planned for November 10, 2019 at Seymour's restaurant on Route 233 in Westmoreland. Condolences can be mailed to 8033 Lewis Point Road, Canastota, NY 13032. Contributions may be made in Sid's name to the VFW Post 9591, PO Box 362, 49 Franklin Ave., Clinton, NY 13323.