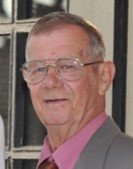 Donald George Danyew
Donald G. Danyew, 78, passed away October 26, 2019.
He was born on October 9, 1941, the son of the late Willard and Dolores (Meisinger) Danyew. Don served his country in the United States Navy aboard the USS Springfield CLG7. During his service overseas, Don was able to experience many wonderful areas of the Mediterranean Sea, ski the Alps and enjoy the camaraderie of his shipmates. On June 15, 1968, he was united in marriage to Natalie Dowsland at Church of the Annunciation in Clark Mills. The couple shared 35 years together until her passing in 2003. Don was a welder and fabricator at Specialty Welding in Syracuse and was still working until he recently passed. One of Don's true joys in life was spending time at their home on Eaton Brook Reservoir. He loved to fish and spend time on the water. Don loved to reminisce about his time in the Navy, growing up in Clarks Mills, and spend time with his family, children and grandchildren. He especially enjoyed watching his children and grandchildren play sports – baseball, softball and motocross.
He is survived by his son and daughter-in-law, Roman and Angela of Baldwinsville; his daughter and son-in-law, Darcey and Bobby Nichols of Stratford; four beloved grandchildren, Jacob Danyew, Dusty Nichols, Gabrielle Danyew and Lorenzo Danyew; three sisters, a brother and their spouses, Barbara and Alan Dowsland, Yvonne and Donald "Clint" Miller, Mary and Joe Nolan and Michael Danyew; sister-in-law, Rosemary Danyew; brother-in-law, Arthur Klein; and many nieces and nephews. He was predeceased by his wife Natalie; a brother Charles Danyew; and a sister Suzanne Klein.
A graveside service will be held at 1pm Saturday, November 16, 2019 at Kirkland Cemetery. Please consider donations in Don's memory to the FishTracker Program of Cornell University at https://fishtracker.vet.cornell.edu.