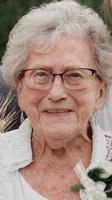 Helen M Owens
It is with deep sadness and an abundance of love that the Owens family announces the death of Helen M. Owens at 90 years young. She died peacefully on October 23, 2019 at St. Elizabeth's Medical Center.
Born on July 29, 1929, in Oakland, CA, Helen was the daughter of the late James Patrick and Alma Laura (Freeman) Connolly. She lived the majority of her life in New Hartford and Clinton, and was a graduate of Clinton Central School, Class of 1946. She studied at Faxton School of Nursing, where she graduated as an RN and worked as a nurse for Dr. Benton. Helen also worked at Faxton Hospital in Labor and Delivery and the Masonic Home. On June 18, 1955, she was united in marriage to William F. Owens, Jr. at St. Mary's Church. The couple shared 64 years together. She was a member of St. Mary's Church, Kirkland and New Hartford Seniors, the Home Bureau and Faxton Alumni.
Helen was a loving wife, mother, grandmother and great-grandmother, who loved to spend time with her family. She started most mornings baking cookies, cakes, and pies for her family and customers who stopped by William Owens & Sons, Plumbing and Heating. Helen was well known in Clinton for her noon time lunch spread for her husband, sons, and employees of the family business. In her free time, she enjoyed bowling, shopping, watching her Me TV programs, playing bingo, and taking bus trips to the casino. She had fond memories of traveling to Massachusetts, Maine, and Rhode Island for yearly shopping trips with her mother, daughters and granddaughters where she would "shop til she dropped." Helen loved baseball and was a die-hard Yankees fan, like her mother. She loved to spectate many levels of competitive hockey, including Clinton High School, the Utica Devils, Utica College, as well as her grandchildren's youth hockey games. Helen shared many special times with her daughters and grandchildren at the Broadway Theatre League productions at the Stanley Theatre. Helen always looked forward to a dinner out at Kirby's, followed by a drive where she would sometimes enjoy more than one ice cream cone at the Ice Cream Factory or Bonomo's Dari Creme. Helen appreciated times with her dear friends, like Friday night dinners with Judy and Ed Bentley, as well as Sunday breakfasts with Barb and Dave Lane.
She is survived by her husband, William F. Owens, Jr.; two sons, two daughters and their spouses, William J. and Nina Owens of Clinton, Brian Owens of Clinton, Laurie and Matthew Christ of Clinton, and Linda and Cary Eisenhut of New Hartford; six beloved grandchildren and their spouses, Meghan and Joe Price of Whitesboro, Alyssa and TJ Losowski of New Hartford, Kait and Andy Cirillo of Rochester, William, Mia and Garrett Eisenhut, all of New Hartford; two great-grandsons, Liam and Hudson Price; a special niece and her family, Jane and Mike Granato and their son Matt Granato, his wife Megan and their son Garrett; and her special friends, Judy and Ed Bentley, Betty Burns, Louise Teachout, and Peggy Miller.
All are invited to call from 2-5pm Sunday, October 27, 2019 at Owens-Pavlot & Rogers Funeral Service, Inc., 35 College St., Clinton. A Mass of Christian Burial will be celebrated at 10am Monday, October 28, 2019 at St. Mary's Church in Clinton. Her burial will be in St. Mary's Cemetery.
Helen's children and grandchildren would like to offer their sincere appreciation to special family friends, Sharon Lewis, Becky Lewis and Nadine Campola for their love, compassion, and kindness toward their mom. They would also like to extend their gratitude to the staff of the Lutheran Home, especially Amela, for the wonderful care given to their mom during her stay.
In lieu of flowers, please consider making donations in Helen's memory to St. Jude Children's Hospital and Stevens-Swan Humane Society.