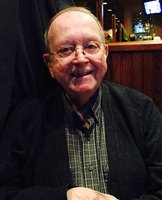 Melville A. "Mel" Edwards
Melville A. Edwards, 89, passed away unexpectedly at home on September 19, 2019.
He was born June 15, 1930, in Utica, a son of the late Alonzo and Lena (Gray) Edwards. Mel graduated from Chadwicks High School in 1947 and Utica School of Commerce. On March 31, 1951, he was united in marriage to Evelyn Richards. They shared 68 years of love and devotion. Mel served his country in the US Army from 1951-1953. He worked for many insurance companies during his career, including National Grange Insurance, Safeco, Utica Mutual and Royal Insurance. He was a member of the Historical Societies in Clinton, New Hartford, Town of Paris and Oneida County and was also a member of the Civil War Roundtable. Mel served on the Clinton Arena board for 28 years and was a scorekeeper for youth hockey and the Comets. He was a member of the Fire Departments in Clinton, Whitesboro and Willowvale. Mel was a longtime and active member of the Clinton United Methodist Church.
He is survived by his wife, Evelyn; a son, two daughters and their spouses, David and Deborah Edwards of Wilmington, NC, Melissa and Andrew Smith of S. Charleston, WV and Lynne and Scott Dillenback of New Hartford; six grandchildren and their spouses, Elizabeth and Charles Willetts, Ethan and Amanda Edwards, Kaitlyn Edwards, Timothy and Ryan Smith, Nathan and Ashley Smith, Meghan and Nathan Jones; five great-grandchildren, Caleb and Emma Willetts, Noah and Avery Edwards, and Owen Edwards; and two special cousins, George and Marion Capria.
The family would like to extend a special thank you to their wonderful neighbors, the Owens family (especially Jim), Tim Breed, and the Mogel family. They would also like to thank Dr. Krause for the extraordinary care over the last many decades.
All are invited to memorial callings from 4-6 PM on Tuesday September 24 at Owens-Pavlot & Rogers Funeral Service, Inc., 35 College St., Clinton. Immediately following calling hours at 6 PM will be a Celebration of Mel's Life.
Please consider donations in Mel's memory to the Steven Swan Humane Society or the Clinton United Methodist Church.