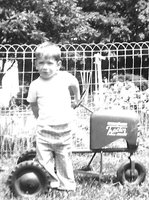 Bryan J Hill
Bryan J. Hill, 64, passed away unexpectedly on August 22, 2019.
Bryan was born on June 3, 1955, a son of the late DeForest "Bump" and Janette (Toronto) Hill. Bryan graduated from Oriskany Falls, where he was an exceptional athlete, excelling in basketball and soccer, and later softball. Bryan will be best remembered for his disarming demeanor. Anyone that knew him, and that was many, say he could always be remembered for kindness and his infectious sense of humor.
Bryan was a loyal fan of the Boston Red Sox and the NY Giants. On June 10, 2017, he was married to Alicia Kalmadge, whom he met 1995. Bryan worked at both Hamilton College and Clinton Central School.
He is survived by his wife, Alicia; his son, Jason T. Hill; two sisters, Liz Hill and Julie Hill; a brother, Danny Hill; and many nieces and nephews. He was predeceased by his parents and a brother, Mark Hill.
All are invited to attend Memorial Calling Hours from 5-7pm Wednesday, August 28, 2019 at Owens-Pavlot & Rogers Funeral Service, 35 College St., Clinton.
Please consider donations in Bryan's memory to Spring Farm CARES.