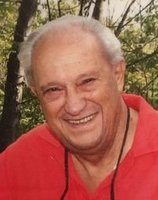 Guy E Bonomo
Clark Mills - Guy E. Bonomo, 91, passed away peacefully, surrounded by his loving family, on Thursday, August 15, 2019. 
He was born in Utica on October 9, 1927, a son of the late Frank and Angeline (Alario) Bonomo.  Guy graduated in 1945 from Proctor High School. He graduated from Utica School of Commerce and attended Syracuse University.  Guy served his country in the United States Navy from 1945 to 1947. On June 7, 1952, he was united in marriage to Frances Lomanto at Our Lady of Lourdes Church in Utica. 
Guy began his career working with his father and uncles at F. Bonomo & Co – an Italian import wholesale grocer, which is now Casa Imports.  In the Fall of 1962, he ventured into the ice cream business, buying Kirkland Dairy Isle. Bonomo's Dari Creme is now celebrating its 57th year in business.  From 1968-1990 he also owned and operated the Washington Mills Dairy Isle on Oneida St.
Guy never sat idle.  When he wasn't working, he enjoyed bowling in a weekly league and golfing at Crystal Springs in the Men's League and Co-ed League with his wife.  He was a member of the Utica Chapter Sons of Italy and New Hartford American Legion Post #1376. He also volunteered at CABVI, American Heart Association, and the Office of the Aging for many years.  Guy and Frances enjoyed their winters in Deerfield Beach, FL, traveling with family and friends, and their bus trips with IAM (Italian American senior group). Guy also enjoyed trips to local casinos and traveling to Atlantic City and Las Vegas.   He was an avid life-long NY Yankee fan, and spent hours cheering them on. He was an excellent cook and loved to make special meals for his family. He was defined by his infamous antipasto that he made for special occasions. He had a knack for making flawless stovetop popcorn for his kids when they were young.  
 He is survived by his devoted wife of 67 years, Frances; his five children and their spouses, Vincent and Deborah (Conkling) Bonomo, Guy A. and Wendy (McGrogan) Bonomo, Angelina Bonomo, Thomas Bonomo and Maria (Bonomo) Bonfardeci and Anthony; thirteen grandchildren, Nick Bonomo, Sara Bonomo, Andrea (Bonomo) and husband Justin Waters, Elizabeth (Bonomo) and husband Benjamin Smith, Emily Bonomo, Mary Bonomo, Caroline Bonomo, Joseph Bonomo, Jenna Bonomo, Tony Bonfardeci, Francesca Bonfardeci, Nick Bonfardeci and Tom Bonfardeci; his brothers-in-law, Joe Lomanto and George Gazzal; and many nieces and nephews.  He was predeceased by his brother, Vincent Bonomo, his sister and brother-in-law, Gertrude and Frank Miccoli as well as many cousins.  
The family would like to send a heart- felt gratitude to the devoted staff of Applewood in the Martin Lutheran Home.  Nurses Cheryl, Sean, Alicia, Kim, Michele, Sabrina, and Kyle. The committed CNA staff, Debbie, Janet, Danielle, Tanae, Jim, and Lolita that showed so much compassion while he was there.  The Active Day staff, Physical Therapy, Activities, Delmina and countless other staff should also be recognized for their exceptional care. Special thanks to Kathy Chiarmonte for her care and compassion and ministry visits to Guy at the nursing home. 
A special thank you to Robin Eddy and Connie Goodson that took care of him while he was home.  Their patience and love will always be remembered. The Bonomo family cannot thank Dr. Amy Gorczinski enough for her depth of care and compassion for Guy.  
   A Mass of Christian Burial will be celebrated at 10:30am on Thursday, August 29, 2019, at Church of the Annunciation in Clark Mills.  His burial will be in St. Mary's Cemetery in Clinton. There will be no public calling hours. Arrangements by Owens-Pavlot & Rogers Funeral Service, Inc., Clinton. 
  In lieu of flowers, please consider donations in Guy's memory to St. Jude's Children's Research Hospital.