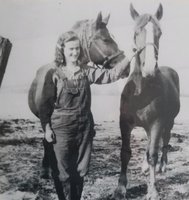 Dorothy Havener Mushala
Dorothy Havener Mushala, of New Hartford, formerly of Durhamville, died on July 24, 2019, at the age of 94.
Born on April 14, 1925, Dorothy was the daughter of Charles and Christine (Sears) Havener. She graduated from Verona High School. On April 23, 1944, she married Stephen Mushala. They raised their three children and farmed together on Poppleton Road in Durhamville. In 1968, they purchased a farm on Marshall Road in Cassville, where they farmed until her husband's death in 1973. She continued farming with her son, Joe, until her retirement.
Surviving are daughters Maria (Ernest) Oertle of Tucson, Arizona; Kathryn (Charles) Randall of Crossville, Tennessee; son Joseph (Barbara) Mushala of Cassville; three grandchildren; and six great-grandchildren.
During her retirement, Dorothy enjoyed trips to Hawaii, Alaska, Arizona and Europe with family and friends. She loved spending time in her yard. Dorothy will be remembered for her can-do spirit, her flower gardens and her mischievous sense of humor.
Services will be private. Anyone wishing to make a contribution in Dorothy's memory, please consider Hospice & Palliative Care of New Hartford.