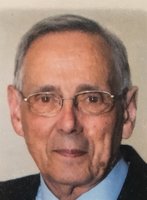 James A Miller
James A. Miller, born October 9, 1935, passed away July 8, 2019, at St. Luke's Hospital with his loving family by his side. He was born in Rome, the son of John and Nell Miller, and he graduated from Clinton Central School. He married Catherine Townsend at St. Mary's Church in Clinton on June 2, 1956.
He spent most of his life doing auto body repair in the area, at one time owning his own business. Jim retired from the Walmart Distribution Center in 2004.
He was a well-respected friend and devoted father to eight children. Jim leaves his wife, one daughter, Julie Ann Turner (Breck) of Lake Placid, and seven sons, Erick (Lisa) of Central Square, David of Worcester, Gary of Frankfort, Neil (Katie) of Aiken, SC, Glenn (Denise) of Naples, FL, John (Kathy) of Rochester and Greg of Richmond, VA. He leaves thirteen grandchildren, Phelps and Fred Turner, Bryan, Kristin, Luke, Abigail, Caroline, Samantha, Sara, Brooks, Kaisa, Virginia, and Olive Miller. Also, eight great-grandchildren, Nina, Michaela and Hudson Turner, Eliza Trask, Maeve and Evelyn Miller, and Bauer and Cason Schultz.
Jim and Catherine have enjoyed camping with their family for 51 years at Moffitt Beach State Campground in the Adirondacks.
Jim was predeceased by his parents and one granddaughter, Rebecca, of Rochester.
Calling hours will be 4-7 PM on Thursday, July 11, 2019, at Owens-Pavlot & Rogers Funeral Service, Inc, 35 College St., Clinton. Jim's funeral will take place at 10 AM Friday at St. Mary's Catholic Church in Clinton.
In lieu of flowers, please consider a contribution in Jim's name to Clinton Dollars for Scholars (clinton.dollarsforscholars.org) or the Alzheimer's Association.