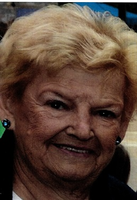 Lorraine LaBella
Lorraine La Bella, 76, passed away peacefully on Saturday, June 8, 2019, after a brief illness.
Lorraine was born in Rome, N.Y. She was educated at Transfiguration School and Rome Free Academy, where she graduated in the class of 1961. She spent her professional life educating children. She was a nursery school teacher before becoming a teacher assistant at Strough Middle School in the Rome City School District.
She was married for 47 years to her loving husband, Paul La Bella, and they spent their time traveling, reading, and spending time with the Yorkville Seniors. They also enjoyed their weekly card club, comprising their dearest friends.
Paul and Lorraine raised two children: Paul La Bella and his wife, Janice, of Rochester, N.Y., and Laura La Bella Cummings and her husband, Matthew, also of Rochester.
Her pride and joy were her three grandchildren, whom she loved and cherished. They all have the best of Lorraine in them. Petra La Bella has her grandmother's beauty and strength. Lucas Cummings has her kindheartedness and compassion. And Andrew Cummings has her charm and wit.
Lorraine also enjoyed an exceptionally close relationship with her loving aunt, Frances Lolo.
Friends and family are invited to attend calling hours from 10am – noon, Thursday, June 13, at Strong-Burns and Sprock Funeral Home, 7751 Merrick Street in Rome. A funeral mass will follow at 1:00 pm at Church of St. John the Baptist, 210 East Dominick Street, Rome. In lieu of flowers, contributions may be made to St. Jude's Children's Hospital, www.stjude.org.