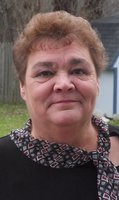 Vicky L "Cindy" Maxam
Vicky L. "Cindy" Maxam, 64, passed away June 9, 2019 surrounded by the love of her family.
She was born November 11, 1954, the daughter of Robert and Dorothy (VanSlyke) Thieme. Cindy married Allan Rattray, with whom she had her son Jason and daughter Brooke. Later she was married to Robert Pritchard until his passing in 1985, and they were the parents of daughter Lacy. In 1998, she was united in marriage to Donald Maxam. They shared ten happy years until his passing in 2008. Cindy was a chef with Bon Appetit for many years. She expressed her love through food and was always bringing a dish to someone. She loved spending time with her family and could make a delicious meal for a houseful with just a few ingredients.
She is survived by her children, Jason (Bethany) Rattray of Fort Johnson, Brooke (Chris) Rattray of Westmoreland and Lacy (Dan) Miers of Westmoreland; her beloved grandchildren, Dakota, Hunter, Jayden, Logan, Zachary, Tyler, Kya and Cooper; her two great-grandsons, whom she adored, Austin and Maddox; two stepsons, Bob and Mike Pritchard; brother, Robert Thieme; sister, Kristy Jennings; step-mother, Linda Thieme; her Aunt DeeDee Truax; Jim Quarles – who was like a brother to her; and many special cousins. She was predeceased by her parents; two brothers, Ricky and Terry Thieme; sister, Bobbi Thieme; stepson, Bobby Maxam; her husbands, Robert Pritchard and Don Maxam; and former husband, Allan Rattray.
All are invited to call Thursday, June 13, 2019 from 3-6pm at Owens-Pavlot & Rogers Funeral Service, Inc., 35 College St., Clinton. A Celebration of Life will follow visitation at 6pm.
The family thanks the nurses at St. Elizabeth's ICU who took great care of Cindy and her family.
In honor of Cindy's big heart and generous spirit, the family asks you to help someone in need and practice random acts of kindness in her memory.