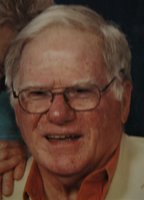 Milford J Morris
Milford J. Morris, 84, passed away June 7, 2019.
He was born July 3, 1934, a son of the late Harry and Sadie (Brown) Morris Sr. Milford served in the Korean War with the United States Air Force. He was united in marriage to Alice Thompson on April 12, 1958 at St. Mark's Episcopal Church in Clark Mills. They shared 50 years of marriage in a devoted union of love and friendship until her passing on February 8, 2009. He was a lifelong member of St. Mark's Episcopal Church in Clark Mills where he served as a senior warden and on the vestry. He retired from General Electric in 1989, where he was affectionately known as "Red". Milford had many hobbies and collections. He was a member of the Railroad Historical Society and the Clark Mills Historical Society. He was a well-read and self-educated man, who valued knowledge and had a true love for local and world history. He was most proud of his family and enjoyed spending time with his children and grandchildren. He was very pleased to live long enough to become a great-grandfather. When people asked how he was doing, his classic response was, "I think I'll make it, one way or another."
He is survived by his daughter, Phyllis Rooney of Clinton; his son and daughter-in-law, Mark and Darlene Morris of New Hartford; two grandchildren and their spouses, Sarah and Brian Spado and Aaron Rooney and Anthony Ford; his two cherished great-grandchildren, Lillian and Gavin; and many nieces and nephews. He was predeceased by his parents; two brothers, Harry Jr and Raymond; and his wife, Alice.
All are invited to call Monday, June 10, 2019 from 10am to Noon at Owens-Pavlot & Rogers Funeral Service, Inc., 35 College St., Clinton. Funeral services will follow at Noon. His burial will be in Kirkland Cemetery in Clinton. Please consider donations in his memory to the Leukemia/Lymphoma Society.