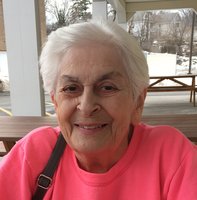 Carol Frost Crawford Capron
Carol Frost Crawford Capron, 78, passed June 1, 2019. She was born January 8, 1941 and preceded in death by her parents Charles and Dorothy Frost and husband Philip Crawford.
She leaves a daughter, Pam Vanlaningham of Montgomery, TX and her ex-husband Kurt; son and daughter-in-law, Charles and Lisa Crawford of Clinton, NY; grandchildren, James Crawford, Brittany (Nik) Six, Mallory (Mark) Vanlaningham, Dayton (Amber) Vanlaningham, Justin (Janelle Pett) Crawford, Kayla (Matthew Moylan) Crawford; great-grandchildren, Zoey, Jaydon, Kaylee, Colin, Karter, Oliver, Kennedy, Tyler, and Aedan; sister, Jackie Moore and brother, Frank Frost; many nieces and nephews and good friends.
In lieu of flowers, please give to Alzheimers.org, AmericanHeart.org or your local humane society. The family thanks Dr. Kandiah and staff, Faxton-St. Luke's Hospital and the staff at Presbyterian Residential Community for the care given to Carol.
A Memorial Service will be held at 11am on Saturday, June 8, 2019 at Owens-Pavlot & Rogers Funeral Service, Inc., 35 College St., Clinton. All are invited to call Saturday from 9am-11am prior to the service. Burial will be in St. Paul's Cemetery in Paris Hill.