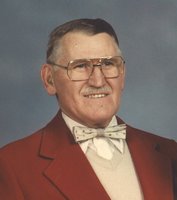 Joseph Gabriel Paragi
Joseph Gabriel Paragi died at home on May 20, 2019, after a long illness.
He was born on August 7, 1923, to Sophia (Dragony) Paragi and Gabriel Paragi, Sr. in Lewis County, NY. He attended grade school in a one room schoolhouse that was visible from the back door of his home and high school at General Martin H.S. in Glenfield. He also attended Indiana Technical College in Ft. Wayne, IN. He married Elizabeth Heller on August 13, 1945, and together they had five children. Joseph grew up on a small farm near Brantingham. When he was in his teens, his father purchased a sawmill which he operated every chance he could. He would reminisce about the enjoyment of this experience until late in his life. He was employed as a union carpenter for forty years in the Utica area and worked on homes, commercial buildings, churches, hospitals and several schools. Joseph operated a sideline business known as Walesville Supply for more than sixty years, selling and servicing domestic water systems and chain saws. Joseph was a member of the National Association of Watch and Clock Collectors in his retirement and enjoyed examining and learning about time pieces of all descriptions.
He was preceded in death by his wife Elizabeth; sisters Barbara and Helen; and a brother Gabriel. He is survived by his sister Virginia in Lowville; children, Edward (Karen), New Haven, IN; Robert, Walesville; Kathleen, Walesville; Joanne, Watertown; and Thomas (Sarka), Fairbanks, AK; five grandchildren and seven great-grandchildren.
All are invited to call from 2pm-5pm Thursday, May 23, 2019 at Owens-Pavlot & Rogers Funeral Service, Inc., 35 College St., Clinton. A Mass of Christian Burial will be celebrated at 10:30am Friday, May 24 ,2019 at Church of the Annunciation in Clark Mills. You are invited to call at church the morning of the Mass from 9:30am until the Mass begins. Burial will be in Mt. Olivet Cemetery. Please consider donations to the Country Pantry.