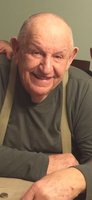 Robert M DeTraglia
Robert M. Detraglia, 84, passed away after a long battle with illness on May 15th, 2019 in the comfort of his home surrounded by his loving family.
He resided on Bliven Rd in Waterville. Then moved to his daughter's house in March of 2019, Waterville NY. Robert (Bob) was born on May 9th, 1935 in Edmeston, New York, son of the late Frank H. DeTraglia Sr. and Loisetta (Humes) DeTraglia. Bob enjoyed farming, fishing, hunting and working. He was very passionate about going to play BINGO as well as a good game of Black Jack. Surviving are two of his four children: Howard and daughter in-law, Janice, DeTraglia of Mechanicsburg Pa.; Lori DeTraglia and son-in-law, Gaylord Gridley, of Waterville NY; and a sister, Marylou Guilbealt of Cresent, NY. Anyone that knew Bob, knew that his grandbabies were the apples of his eye, they are: Craig DeTraglia of Pa., Ashley Detraglia-Wood of NY, Jessica Perry of NC, Brittany Zalocha of NY, Kristine Ellis of Pa., Leon Saville of NY, Christine Buschor of NY, & Morgan Jeffers of NY. Bob was predeceased by his son Robert F. DeTraglia and daughter Robin L. Saville and two brothers Fay DeTraglia & Frank H. DeTraglia.
Our Dads Story
Dad had much success in his life, most importantly working 65 years with the International Union of Operating Engineers Local 158. This June, Dad was honored with a longevity award. He was a true union worker believing that staying true to your job was most important. He loved to go for long rides and tell stories about his involvement in the NY State Pipe line. We would be in the mountains of Watertown, NY and he would drag us down an old dirt road to show us a pipe line that he had worked on in the 50's. He frequently told the story of "the turtles." In Binghamton NY they had to cross a pipe under a water way and it was turtle season, they had to wait a couple weeks for the turtles to move on. One of Dads proudest moments was when he helped his son Howard start his excavating business in 1996 in Mechanicsburg Pa. Dad loved to be on a piece of equipment setting drag lines, setting pipes, or digging foundations for the future.
We can go on with many great stories. So, please join the family between 6pm & 9pm on July 6th at Four Eleven Tower, Waterville NY. Come celebrate with the family.
The family would like to extend a sincere thank you to LutheranCare, Clinton NY for their dedication in caring for the residents.