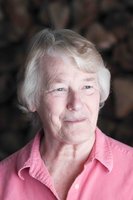 Susan W Kim
Susan Elaine Webster Kim of Clinton, NY passed away on Mother's Day, May 12, 2019 at the age of 80 years. She spent her final hours in her home surrounded by her loving family and her dogs.
Susan was born on October 20, 1938 in Springville, NY to Benjamin and Lillian Webster. Her primary education was in a one-room schoolhouse in Hamburg, NY. She graduated from Orchard Park High School and was valedictorian of her class at Deaconess Hospital School of Nursing in 1959.
Susan worked as a Registered Nurse at Buffalo VA Hospital for three years and four years at Buffalo Children's Hospital.
She was married on July 1, 1967 at the Colgate Rochester Divinity School Chapel in Rochester, NY to Kenneth Kim, MD, her husband of 51 years.
In 1969, her husband was drafted during the Vietnam War. Susan and Ken traveled across the country in a Volkswagen Camper to see all the beautiful national parks on their way from Dartmouth Medical Center to Letterman Army Hospital in San Francisco.
The center of Susan's life was her family. She loved nature, gardening and animals, and spread kindness and love throughout her entire life.
She is survived by her husband, Kenneth Kuntak Kim, MD and her four children, Caroline Kim Tihanyi (Gyula), Peter David Kim (Melissa Dustin), K. Scott Kim (Rachael), David Stewart Kim, her two grandchildren Madeline Eva Kim and Annika Susan Kim, several beloved nieces and nephews, and her two dogs Betsy and Buddy.
She is predeceased by her father, mother, and brother, David John Webster.
Susan's family would like to express their gratitude for the excellent care she received at St. Elizabeth and St. Luke's Hospitals.
In lieu of flowers, contributions may be made to Susan's favorite charities, Soi Dogs (soidogs.org) or Second Chance Animal Rescue of Puerto Rico (scapr.org).
A memorial service will be held at the Clinton United Methodist Church on June 8, 2019 at 11AM .