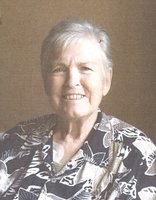 Donna Mae Robinson
Donna Mae Ziegler Robinson, 78, of Sanford Ave, passed away May 2, 2019 at Lutheran Care.
She was born June 23, 1940 in Syracuse, the daughter of the late David and Frances (Jones) Ziegler. She lived in Deansboro and received her education at Waterville Central School and graduated from MVCC and Syracuse University with degrees in Secretarial Science, Computer and Accounting. She was Private Secretary to Judge Hugh R. Jones of Evans, Pirnie and Burdick in Utica. She worked at Kelsey-Hayes until retirement as a Machinist and Final Inspector. She was in charge of the Sandstone Hollow Golf Course (TSCR), as Golf Pro Attendant for five years since it opened. Earlier years she worked at Hart's Hill Inn at large banquet parties on weekends. She was a member of the Stone Presbyterian Church, Clinton and the Oneida Gun & Rifle Club, Oneida.
She is survived by her children, Sherry Robinson (Phil Conley) of Deansboro, Michael Robinson of Clinton, Susan (Shawn) Gaffney of Clinton, and Patrick (Gail) Robinson of NC; beloved grandchildren, Jordan Robinson and Samantha Gaffney, both of Clinton; sister, Frances Hunter of Syracuse; two uncles, Edwin Jones of Oriskany Falls and Carl Jones of Clinton; and special niece and nephew, Hillary Hunter and Kay Hilsberg and niece, Laurel (Dave) Kelly and daughters. She was predeceased by her parents.
A Memorial Service will be held at 12:30pm Tuesday, May 7, 2019 at Stone Presbyterian Church, S. Park Row, Clinton, NY. All are invited to stay for a reception following the service. Private burial will be in Crown Hill Memorial Park. Arrangements by Owens-Pavlot & Rogers Funeral Service, Inc.
In lieu of flowers, kindly consider donations to Stone Church, Clinton Fire Dept. Or Kirkland Town Library.
Special thanks to Hospice & Palliative Care and the nurses and staff at Lutheran Care.