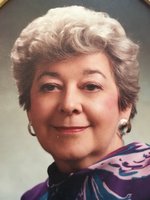 Karolyn G. Crockett
Karolyn G. Crockett, 92, formerly a resident of Clinton, NY, passed away April 25, 2019 in Greenville, SC. She was born in Ohio, the eldest child of John Jay Gould and Albertine Heckel Gould. She was a graduate of Butler University. On July 30, 1950 she was wed to George R. Crockett at the Fairview Presbyterian Church in Indianapolis, a marriage that lasted 61 years.
She worked for many years at the Burke Library at Hamilton College and the Kirkland Town Library. She was a longtime member of Beta Sigma Phi. She is a charter member of P.E.O., a philanthropic, educational organization.
She leaves her daughter, Christine Crockett Morgan and her husband Dr. Mike Morgan, Jr. of Pittsboro, NC; Dr. Jay Crockett and his wife Dr. Amy Crockett of Piedmont, SC; her four grandchildren, Dr. Matthew Morgan, Dr. Meghan Morgan-Smith, Chandler Crockett, Carson Crockett; and her great grandchildren Sadie and Coleson Smith. She was predeceased by her husband and her daughter Susan Crockett Knaack.
Friends may call on Tuesday, April 30th from 6-8 PM at the Owens-Pavlot & Rogers Funeral Service, 35 College St., Clinton. Private services will be held for the family. In lieu of flowers, please consider a donation to the Kirkland Town Library, 55 ½ College Street, Clinton NY 13323.