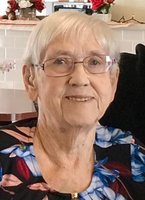 Mary Ann McMullen
Mary Ann McMullen (Gregory),87, passed away peacefully with her loving family by her side and was reunited with the love of her life on March 23,2019.
She was born in Walton, NY on November 13, 1931 to the late Earl and Olive (Constable) Gregory. She was one of two children and loved her brother dearly. She graduated from Clinton Central School and in 1953 she married the love of her life Gerald McMullen. They shared this blessed union for 65 years until 23 days ago when Gerald passed away. They went on to raise a beautiful family which was the thing that Mary Ann was most proud of. She cooked, cleaned, canned, gardened, baked, made clothing and always made sure the family was together to celebrate holidays. She was a past member of the Barton Hose Company Auxiliary, the Deansboro Home Bureau, and a Past Girl Scout Leader. She loved summers spent at camp on Madison Lake and winters in Florida.
She is survived by her two sons and daughters-in-law, Bruce and Sue McMullen and Glenn and Anna McMullen; three daughters and sons-in-law, Sharon McMullen, Judy and Ron Gaudin, and Alice and Dan Yoxall; beloved grandchildren, Geoff and Ann McMullen, Zach and Janine McMullen, Michael Ecker, Andrew and Kristi Ecker, Patrick and Melinda McMullen, Jordan Yoxall and Stephanie Yoxall; her great-grandchildren, Zoey Ecker, Maddie McMullen, Richard Isaac McMullen; and a brother, Daniel Gregory. She was predeceased by a daughter-in-law, Laurie McMullen; and her sister-in-law, Marilyn Gregory.
Just as Gerald always did, he has been waiting on Mary Ann calling to her "Come on Mary Ann, Let's go".
The family would like to thank Dr. Chabot, and the staff of The Waterville Residential Care Center for their kindness and compassion.
All are invited to call Tuesday, March 26, 2019 from 5-7pm with a service to celebrate her life immediately following at Owens-Pavlot & Rogers Funeral Service, Inc., 35 College St., Clinton.
Please consider donations in Mary Ann's memory to Deansboro Cemetery Association, Barton Hose Company, or Deansboro Congregational United Church of Christ.