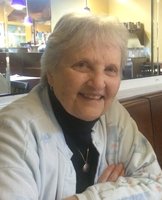 Catharine B "Tink" Hugo
Catharine "Tink" Hugo, 84, of Homewood Drive, passed away Wednesday, March 20, 2019 at the Presbyterian Home with her loving family by her side.
She was born in Germantown, PA on January 21, 1935, one of five daughters of the late James T. and Gladys (Ebersole) Baldwin. She graduated from University of Pennsylvania with a Bachelors Degree in Education with a major in math. During her summers at Penn, she volunteered at Green Lane Camp. She was united in marriage to William L. Hugo, Jr. on November 30, 1957. Tink was an Air Force wife for 23 years. Since 1975 she has transcribed 1000's of pages of braille during her work with Braille Transcribers of CNY. She tutored school children and bridge players. Tink played in many different Bridge Clubs, including Tuesdays at Alteri's. She was talented in the arts of knitting, crochet and sewing and was a wonderful cook and baker. Tink enjoyed spending time with her family most of all and always looked forward to family gatherings.
She is survived by her husband of 61 years, Bill; daughter and son-in-law, Deb and Jerry Tilley of Midland, Texas: her son and daughter-in-law, Bill and Lisa Hugo of Baltimore, MD; two granddaughters, Catharine "Catie" and her wife Abby Jacobson and Lillian "Lilly" Hugo; three sisters and brothers-in-law, Barbara Donovan, Patricia and Dick Kingwell and Diana "Boo" and Carl Swenson; sister-in-law, Betty Earl; and nineteen nieces and nephews. She was predeceased by her parents and her sister Sally Wiker.
A Celebration of Tink's Life will be held at 2pm Saturday, March 23, 2019 at Owens-Pavlot & Rogers Funeral Service, Inc., 35 College St., Clinton. All are invited to call Saturday from 1-2pm prior to the service. The family will be planning a memorial service in Baltimore at 1pm Sunday, April 28, 2019.
Please consider donations in Tink's memory to Operation Sunshine.