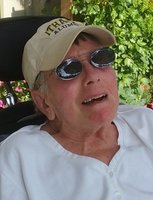 Patricia K "PK" Cullen
Patricia K. "PK" Cullen, 72, passed away March 16, 2019, from complications of Parkinson's Disease after a long and courageous battle.
She was born in Utica on August 2, 1946, a daughter of the late John and Margaret K. (Murray) Cullen. PK graduated from New Hartford High School in 1964 and received her Bachelor's Degree from Ithaca College in 1968. She retired in 2001 from Rome City Schools as a Physical Education teacher. PK coached softball, swimming, bowling and boys' and girls' volleyball. She also was a referee for volleyball and basketball for many years. She was a member and trustee of the Sylvan Beach Union Chapel. PK loved to travel and enjoyed photography. She also enjoyed golf in her later years.
She is survived by her companion Ranee Mortis; her sister Margaret "Missy" Reilly of Utica; her niece, Elizabeth Preuss and Keith Sacks of Utica; great niece and nephew, Victoria and William Preuss; the Murray cousins, Bill, Bob and Rick; her extended family, Ruth Mortis, Rhonda and Fred Sherman, Rod and Karen Mortis, Robin, Buckey and John Eddy, Kristy, Neil and Addison, Nicole, Perry and Zoe and Hilary, Matt and Haley; and her many friends who were always there for her. She was predeceased by her parents.
All are invited to call Wednesday, March 20, 2019 from 4-6pm at 7751 Merrick Road, Rome (Strong-Burns & Sprock Funeral Home). A Celebration of PK's Life will be held at 6pm following calling hours. Private burial will be in Forest Hill Cemetery.
Please consider donations in PK's memory to Sylvan Beach Union Chapel, PO Box 182, North Bay, NY 13123.