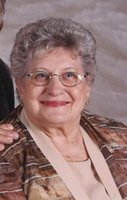 Lois Irene Thaler
Lois Irene Thaler, 90, formerly of Westmoreland, passed away March 7, 2019 at the Presbyterian Home, surrounded by the love of her family.
She was born in Oneida on August 31, 1928, a daughter of the late Wilfred and Ruby (Hutchison) Howlett. Lois enjoyed a beautiful childhood, growing up on the family farm in Hecla. She attended the one-room school house and graduated from Westmoreland High School. She was united in marriage to Charles Thaler in 1952. The couple shared 67 years of love and friendship. She had worked at Hunter House as a bookkeeper for many years. Lois was a lifetime 90 year member of the Hecla Congregational Church, a member of the Ladies Aid Society, the PTA and enjoyed spending time with her friends – the Birthday Girls, and at Card Club. She enjoyed spending time with her family most of all. Lois was always worried about her children and grandchildren, and loved them all with a love like no other. She was one in a million as a wife, mother and grandmother in every way.
She is survived by her devoted husband, Charles; her son, Garry Thaler; two daughters, Sandra Mudge and Leisa Reed and her significant other Harold Clawson; six beloved grandchildren, Amanda Thaler, Jessica Thaler, Trisa Mena, Baden Mudge, Zack Reed, Jacob Reed and Lisa Jordan; seven great-grandchildren; her sister Thelma Jones; and many brothers-in-law and sisters-in-law; and a large extended family. She was predeceased by her brother and sister-in-law, Arthur and Dorothy Howlett; sister and brother-in-law, Marilyn and Cecil Williamson; son-in-law, Paul Mudge and brother-in-law, Garnet Jones.
Funeral Services will be held at 2pm Saturday, March 16, 2019 at Presbyterian Home for CNY. Her burial will be at Westmoreland Cemetery in the Spring. Arrangements by Owens-Pavlot & Rogers Funeral Service, Inc., Clinton.
Please consider donations in Lois' memory to Hecla Congregational Church.
The family thanks the staff at the Presbyterian Home, who took such great care of Lois during her stay.