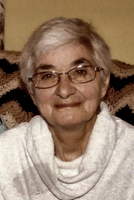 Patricia Evans
Patricia Ann Evans, 87, passed away February 10, 2019 after a brief illness, with her loving family by her side.
She was born May 20, 1931 in Rome, the daughter of the late Walter and Blanche (Schuller) Luce. Pat graduated from RFA with the class of 1949. She was united in marriage to Eugene A. Evans on September 16, 1950. They shared many happy years together until his death in 2010. She retired from Montgomery Ward after 34 years and was the owner of Tanglewood Shop in Lee Center. She was a creative and talented artist. She gifted many paintings to her family, created a unique troll doll and authored two children's books. Patricia was well-known for her yearly Halloween display. She also had the vision and patience to build her stone walls. Patricia loved to feed the birds, tend to her gardens and was quite a card shark. She enjoyed all of these things in her life, but she loved spending time with her family most of all.
She is survived by her six children, Michael Evans and his partner Kevin Cabana of Taunton, MA, Mark Evans and friend Alicia Gonzalez of Rome, Kathleen and Charles Snyder of Osceola, Kelly and James Cadrette of Rome, Kimberly and Joseph Preski of Rome and Kory and Richard Davies of Rome; twelve grandchildren, Tara Beck, Charles Snyder, Kristina Mazur, Joseph Preski, William Preski, Jeremy Cadrette, Kari Manning, Craig Evans, Chad Evans, Michael Davies, Shawn Olson and Ashley Olson; 21 great-grandchildren; brother John (Jean) Luce of Rome; brother-in-law, Lyle (Marlene) Evans of Rome; and many nieces and nephews. She was predeceased by her husband; granddaughter, Heather Panack; and sister Marion (Robert) McKeown.
Funeral Services will be held at 7pm Thursday, February 14, 2019 at Strong-Burns & Sprock Funeral Home, 7751 Merrick Road, Rome. All are invited to call Thursday from 4-7pm prior to the service. Her burial will be in Evergreen Cemetery in the spring.
Please consider donations in her memory to the Lee Center Fire Department.